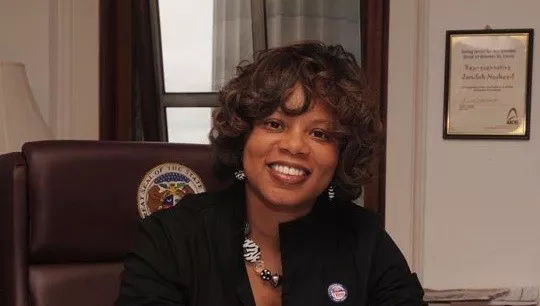 VIA VOTENASHEED.COM
Senator Jamilah Nasheed (D-St. Louis) is criticizing a new social media policy at City Hall.
A new social media policy at St. Louis City Hall that has activists crying foul began, ironically enough, with an effort to hold employees accountable for racist remarks online.
Last November, after Public Safety Director Jimmie Edwards
was put in charge
of a host of city departments including police, fire and corrections, he says he quickly became aware of a flurry of racist and otherwise incendiary social media posts by city employees.
"There was not one single things that precipitated this," he says. "But people came to me early and were coming to me a lot, even before I understood some of the infighting in these departments, with concerns."
For Edwards, who was prohibited from using social media during his 25-year tenure as a city judge, the posts were an eye-opener. "You can't be racist and say derogatory things about Muslim citizens, and then say you're going to protect them," he says. "That is problematic to me."
Edwards asked the city's department of personnel to draft a city-wide policy on social media use. But the
policy quietly enacted in early July
has since set off a tidal wave of criticism — with politicians, activists for police reform and the ACLU expressing concern.
At a meeting yesterday at City Hall, a number of city officials, including Mayor Lyda Krewson and Edwards, sat down with Missouri Senator Jamilah Nasheed (D-St. Louis), Representative Bruce Franks (D-St. Louis), and a host of activists, including the Reverend Darryl Gray, a protest leader who now serves as a community liaison for the Ethical Society of Police, which represents black officers.
Gray says the pushback began with concerns from Ethical and Nasheed, and quickly grew to include a broad coalition — including the St. Louis Police Officers Association. (That union, which has frequently stood on the opposite side of the Ethical Society, Gray and Franks, wasn't at the meeting at City Hall but has been working with the coalition, Gray says.)
Both he and Nasheed agree that the policy may have begun with good intentions — but say they nevertheless fear its impact.
"They're saying, 'We don't want to try to hurt anyone's freedom of speech,'" Nasheed says. "But even if they don't want to, there are unintended consequences as a result of this."
The policy governs social media use both on and off the clock — and notes that speech will not be considered protected under the First Amendment. "Employees may be subject to discipline if such speech is deemed detrimental to the city," the policy notes.
That, says Gray, opens a big can of worms.
Gray also notes that, among its provisions, the policy restricts posts that could "cause disruption in the workplace." He fears for outspoken city employees like Heather Taylor, the president of Ethical: "If you say there is racism in the police department, or sexism in the police department or homophobia in the police department, and it's true, that's going to cause disruption in the department. Does that mean you can't say it?" And violating the policy can lead to discipline up to dismissal.
Nasheed says the meeting was "a little hostile" in the beginning, but that attendees seemed to move towards common ground. Edwards confirms that the city agreed to hold the policy in abeyance, taking no action on any potential infractions, for ten days. During that time, city officials will look again at the verbiage, he says. They'll be looking at making some changes and then reconvening the same group to discuss them.
He believes they can find a solution that will work for everyone.
"I am confident that we'll get there," he says.
We welcome tips and feedback. Email the author at [email protected]