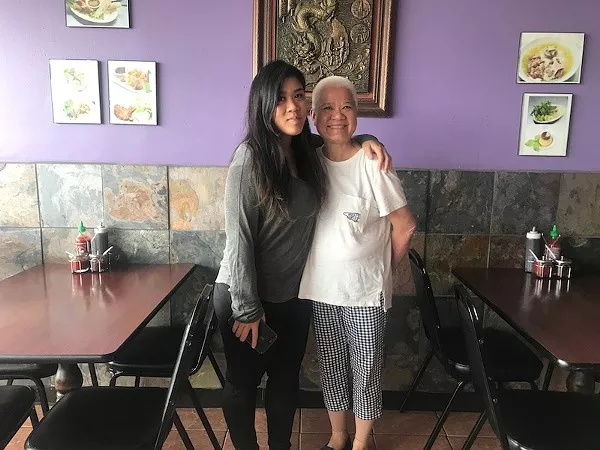 ALISON GOLD
Thaun Kieu, right, with My Hua, opened Pho Long on Olive twelve years ago.
It sounds unbelievable in this supposedly enlightened age, but University City really is moving forward with a plan to displace a host of successful small businesses to bring in ... a taxpayer-subsidized Costco.
Last night, the St. Louis suburb's
Tax Increment Financing Commission voted 10-2
to provide up to $70 million in tax funds for a $119 million development at Interstate 170 and Olive Boulevard. The developers on the project, Webster Groves-based Novus Development, have all but stated their ultimate goal is to land a Costco.
Now the project faces just one final legislative hurdle: Approval from the University City Council.
Going forward with the project would require buying out approximately 60 homes in the city's traditionally black Third Ward. It would also leave many of the city's most interesting restaurants grappling with an uncertain future.
Unlike the homeowners affected by the plan, many of the restaurants — as
the RFT's Alison Gold detailed in June
— are renters. That means much smaller subsidies as they're pushed out, even though in some cases they've invested many years in their businesses. (Pho Long, for example, opened in 2006.)
As the restaurateurs explained to Gold, the strip of Olive on which they're currently located is the only "Chinatown" in St. Louis. Adding insult to injury, it's one that Asian entrepreneurs moved to after officials razed the one in downtown St. Louis (to put in a parking lot, no less). In addition to Pho Long, acclaimed restaurants like
Tai Ke
, as well as longstanding businesses Bob's Seafood and Beyers Lumber Company, are in the footprint of the new big-box development.
A coalition of activists were at last night's meeting, protesting the plans. But their words apparently fell on deaf ears. Over several months, and with a
turnout of hundreds at some meetings
, they've complained about poor communication with business owners who, in many cases, are immigrants with a first language other than English. They've noted
Novus' failure in other cities
, which left homeowners there holding the bag. They've tried to make a case that the tide is turning against tax increment financing, or TIF, which has become
highly controversial in St. Louis for the way it subsidizes those who least need it
. But that 10-2 vote means the project is nevertheless hurtling forward.
Tai Ke owner Calvin Koong gave an
RFT
reporter
four words about the project in June
: "Over. My. Dead. Body." One can only hope it was hyperbole, because a 10-2 vote is a very bad sign for project opponents.
Editor's note: A previous version of this story stated incorrectly that Simba Ugandan Restaurant was in the footprint of the proposed big-box store. While that was the case in the original set of plans, boundaries have shifted and for now its location appears to be safe. We regret the error.
We welcome tips and feedback. Email sarah.fenske@riverfronttimes.com