COURTESY OF ANNIE RICE/HOLLY RAVAZZOLO
Annie Rice, left, ran for alderwoman as an independent against Paul Fehler earlier this year — and won.
For months, the St. Louis Democratic Central Committee has debated how to deal with members who fail to toe the party line. But last night, the debate ended one vote short — a bylaw amendment that would allow the committee to "censure" rogue members was defeated by just one vote.
The measure needed a two-thirds majority of its 52 members to succeed — or 35 votes. It earned 34. And so, for the moment, central committee members can endorse or speak out in favor of candidates running against the party's nominees without fear of reprisal.
The contentious debate was triggered in part by Alderwoman Annie Rice's election. Rice, a progressive immigration lawyer, had won a
seat representing the city's 8th ward on the central committee in 2016
, as did data analyst Paul Fehler.
When Alderman Stephen Conway left his seat, both Rice and Fehler threw their hat in the ring. The committee endorsed Fehler, giving him the right to run with that all-important (D) next to his name — but Rice
challenged him as an independent
, and
won
.
The special election exacerbated growing tensions between the establishment and progressive wings of the city's Democratic Party — as well as questions about what it means to be a Democrat in a city without any substantive opposition. Members began discussing a plan to penalize those who'd go against the committee's endorsement.
At one point, they contemplated going so far as to give the
committee the right to remove members who ran without the party's blessing
(a situation that wouldn't apply to Rice, since she had to give up her committee seat anyway when she won her seat — but was clearly inspired by her run).
But
after months of back and forth
, the committee finally put a bylaw change to a vote of its membership last night. This one held that members who publicly support candidates other than the Democratic nominee "shall be subject to censure proceedings." (The details weren't clear as of press time, but previously censure was said to involve a hearing, and could lead to members losing their right to speak or vote at meetings for a set period of time.) By failing to achieve a two-thirds majority, that change will not go into effect.
In addition to the razor-thin loss, the committee also elected a new slate of officers, choosing as its chairman Michael Butler, the newly elected city recorder of deeds.
Before that vote, committeewoman Mary Entrup made a motion to go into executive session, which would have kicked out party activist Sarah Felts, who'd been live-tweeting, and intermittently live-streaming, the meeting.
Felts tweeted her disapproval:
As Felts tweeted, Entrup's motion was ultimately withdrawn. She was allowed to stay.
And at least one member was unhappy about that. 24th Ward Committeewoman Teri Powers, who'd previously confronted Felts, saying
she felt it was rude to film the meetings
, went on the attack again last night, this time on Facebook — only she confused her targets.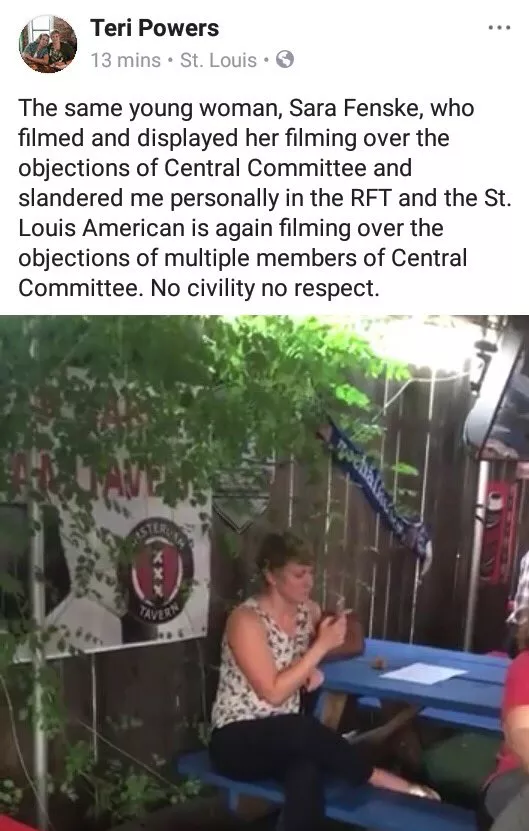 "No civility no respect?" And here we were watching from home the entire time....
Powers later corrected her Facebook post to make it clear she was attacking Sarah Felts the activist, not Sarah Fenske the journalist. Thanks?
We welcome tips and feedback. Email the author at sarah.fenske@riverfronttimes.com