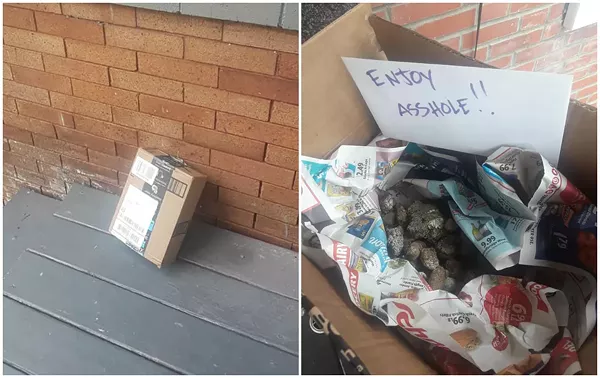 COURTESY JEFF RIGGS
A recently re-sealed Amazon box had a surprise load of cat shit and heartfelt message for the thieves.
St. Louis has a new champion in the war against package thieves.
Armed with an empty Amazon box and pile of cat poop, a 36-year-old bartender named Jeff Riggs went to work against the crooks who raid the porches of his friends and neighbors in Tower Grove South in search of delivered items to steal.
"I've been thinking about it for a minute, and I finally had enough cat poop one day," he says.
That day was Thursday, following a stint cat-sitting for his sister. The cat, he says, had been prolific, supplying him with exactly what he needed. And after he had the raw materials, Riggs' method was simple. He filled an empty Amazon box with cat shit, re-wrapped it as if he'd never opened it and placed it vulnerably on his porch in the 3900 block of Wyoming Street. As an added touch, he wrote "ENJOY ASSHOLE!!" on a piece of paper and tucked it inside.
He had originally planned to keep a secret watch over the bait box, but that seemed like a lot of time just to watch a package full of poop. Still, he would check on it. Within two days, the crap box had been stolen, he says.
It wasn't like someone figured out the prank and just dumped it within seconds, either. Riggs didn't see the box anywhere in the neighborhood. He suspects the thief loaded it in a car and took off, only to discover the surprise later.
Riggs posted his exploits on the Tower Grove South Facebook page, where he is being duly lauded for standing up for the neighborhood. "People have been texting me all day," he says.
He has also discovered there are others like him, everyday crime fighters quietly filling their empty boxes with animal waste in the name of justice. He's hopeful their example will inspire others, so that any porch pirates with dreams of intercepting packages full of valuables will also have to wonder if they're just stealing a box of literal shit.
Anyone can follow Riggs' lead, and he advises any pet owners to think twice about discarding useful poop.
"Don't throw it away," he says. "Put it out."
We welcome tips and feedback. Email the author at doyle.murphy@riverfronttimes.com or follow on Twitter at @DoyleMurphy.