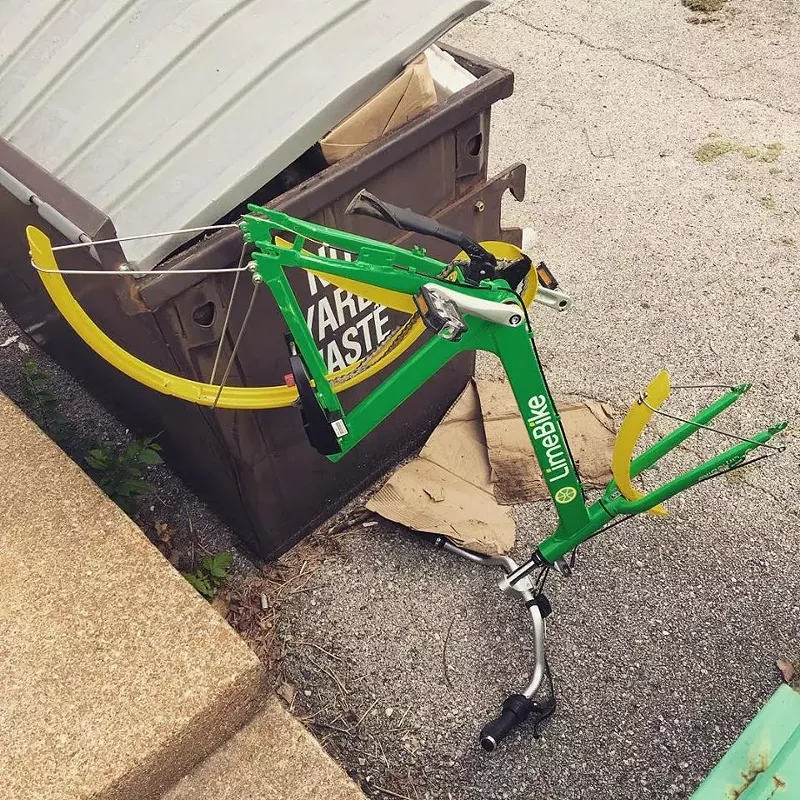 COURTESY OF TREVOR MATTHEWS
A sliced lime spotted in Princeton Heights.
A corpse was recently dumped in an alley in Princeton Heights. The otherwise sleepy city neighborhood doesn't generally see much crime, which might have made it the perfect spot to dump this sad, mutilated skeleton.
It's a crime scene that happens all over St. Louis, a common sight thanks to the
severe lag in timely trash pick-up
that has recently plagued St. Louis alleyways. Cruise down any city alley for long enough and you're sure to come across the remains of a
Lime rental bike
that's been stripped to the bones by urban vultures.
Earlier this month, the
Riverfront Times
reported that hundreds of bikes from Lime competitor Ofo
have gone missing
in the St. Louis area. Ofo had recently
pulled out of St. Louis
, instead choosing to target its U.S. growth solely in San Diego, Seattle and New York.
Ofo also donated hundreds of bikes to
BWorks
, the parent organization of St. Louis Bicycle Works, which runs free programs that let kids earn their own bikes while learning bicycle safety and repair. Patrick van der Tuin, BWorks' executive director, said of Ofo's missing bikes, "Unfortunately, I think a lot of them have probably gotten scrapped out and recycled by different individuals."
Other bike-sharing vehicles have met the end of their working days by having their locks popped off and their bodies painted to hide their origins. But they more frequently end up like the bike above — cut up and left for dead, missing anything salable of value including the seat, basket, wheels and tires.
Still, we suppose it's better than what happened last week, when a man on a Lime scooter apparently
carjacked a woman in the DeBaliviere Place neighborhood
.
This is why we can't have nice things: We're either using them in the commission of a crime or committing crimes against them.
In the spirit of
recent municipal discussions
, we do have one modest suggestion: Could we find a way to blame this particular corpse dump on out-of-towners?
Ugh, we need therapy.
Email the author at jaime.lees@riverfronttimes.com