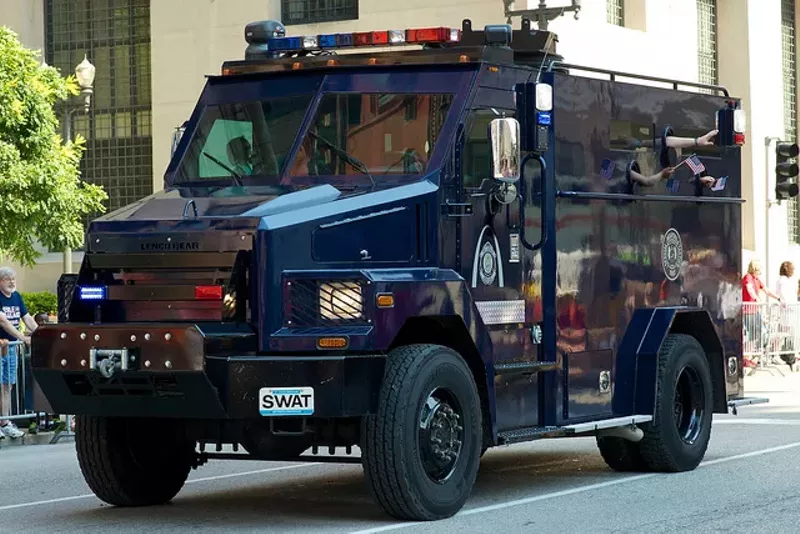 FLICKR/CHRIS KOERNER
The St. Louis SWAT team shows off its fancy toys at a 2013 parade.
On March 5, 2014, St. Louis police broke down the door of Leon Walker Jr.'s home in north city with a battering ram. They handcuffed his live-in girlfriend and her two adult children, and then they ransacked the place — cutting open mattresses, emptying drawers, searching a computer and cell phones.
As would soon become apparent, they had the wrong house. No one at Walker's house had a criminal record or had ever been previously arrested. The search warrant contained their address, but it was under the name of a neighbor, someone the family hadn't had contact with for years. The terrified residents tried to tell the police that the man in question lived two doors' down, but the search continued for two hours.
And then, the police officers invited a city building inspector into the house. The family's lawyers, Bevis Schock and Hugh A. Eastwood, would later learn this isn't just common practice — it's policy. Under the city's "Project 87," a home's occupants targeted by the police department's SWAT team are also referred to the building department. The occupants are then ordered to sign a "consent to search" allowing the city's building department to search the home. If they refuse, Schock says, the inspector immediately condemns the property.
Walker's family consented. Ultimately, they were cited for minor code violations and broken front windows — windows, Schock says, that the SWAT team itself had broken during the raid.
While the family quickly remedied the code violations pointed out by the city, they filed a lawsuit in federal court in 2015, alleging a violation of their civil rights (and noting the police department's sloppiness in mistaking their home for a drug den).
Earlier this month, the city formally settled the suit with Walker and his family. (Walker died after the lawsuit was filed, but his heirs continued to pursue the case, and they signed the settlement agreement in his place.) The city has agreed to pay the family $155,000, along with costs.
More importantly to others who've found themselves facing a Project 87 action, the settlement orders a change to city policy. As Schock explains, the family was "forced to choose between their Fourth Amendment right to be free from an unreasonable search and instant homelessness."
As outlined in the settlement agreement, the city of St. Louis has agreed to strike language in one of its special orders, replacing it with a new policy. The agreement outlines a nine-month implementation period for its compliance.
Going forward, officers may only call in building inspectors if they believe they're seeing "a condition or defect .... constituting an immediate fire hazard or posing an immediate threat to the life, health, or safety of any occupant of the building," the new language states. The city also agrees that it won't seek written consent for inspection by "threatening immediate condemnation and/or an order to vacate if consent is not given" unless there's reasonable cause to suspect a threat to the occupants' life, health or safety.
City Counselor Julian Bush says the previous policy dates back several decades to the administration of Mayor Freeman Bosley. He says he believes the changes negotiated in the settlement have led to "a better policy."
"You have people who live in neighborhoods with drug houses, trying to raise children near where drugs are sold, and that's not a good thing," he says. "It is a law enforcement imperative to deal with that, but you have to balance that with people's rights. This moves the needle closer to people's rights. It's a little adjustment, and we think it's a good one."
Attorney Schock is celebrating the agreement as a good policy change at City Hall. For too long, he says, the city said in effect, "If you don't sign this form, I'm going to condemn your house."
"This was policy," he says.
Editor's note: We updated this post about an hour after publishing to include additional info from City Counselor Julian Bush.
We welcome tips and feedback. Email the author at sarah.fenske@riverfronttimes.com