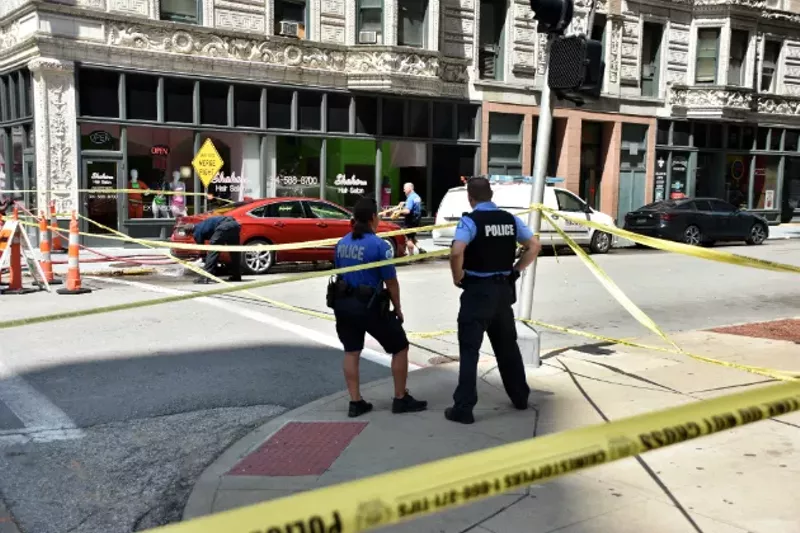 DOYLE MURPHY
A St. Louis firefighter hoses blood off the street after a deadly shooting downtown.
A man was shot dead this morning in the middle of downtown, just steps from a city police substation.
Officers heard the gunfire shortly before 11 a.m. and stepped outside to see the shooter still holding his pistol and the other man down on the North Ninth Street sidewalk, near the corner of Pine Street, police told reporters at the scene. The gunman was taken into custody without any other problems.
Investigators believe the shooting stemmed from an ongoing dispute between the men over a third person.
A witness told the St. Louis Post-Dispatch
the dead man attacked the shooter, who squeezed off several rounds from his handgun as he started to fall.
A stray bullet blasted through the window of a hair salon next door to the Mark Twain Hotel, but no one else was wounded.
The Mark Twain has long been a refuge
to the city's down and out, and both men are believed to have stayed there.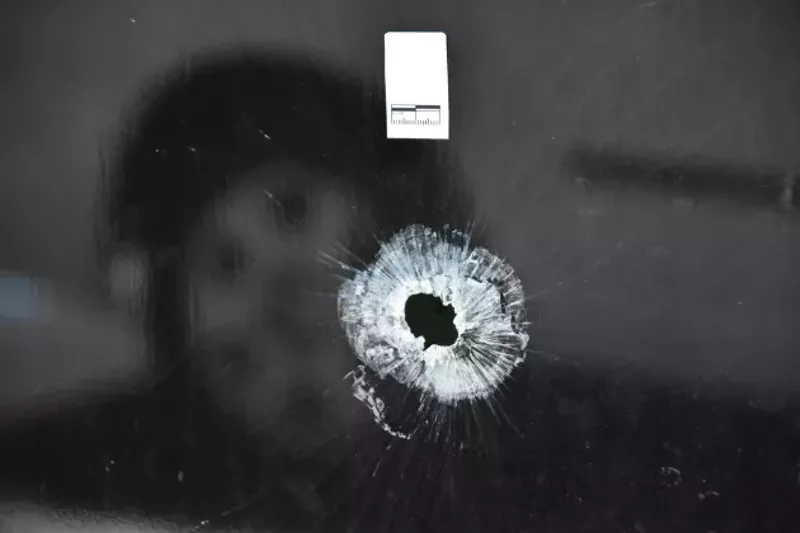 DOYLE MURPHY
A police sticker marks a bullet hole in the glass of Shah's Hair Salon.
Police blocked off car traffic on Pine and Olive streets for a block in each direction, and they wrapped the crime scene on Ninth in a web of yellow tape, diverting lunch crowds through the busy neighborhood.
St. Louis firefighters hosed off the sidewalk before police opened up the block again at about 1 p.m. Police did not immediately release the names of the shooter or the man who was killed. They described the man who was killed as a black male in his 50s.
We welcome tips and feedback. Email the author at doyle.murphy@riverfronttimes.com or follow on Twitter at @DoyleMurphy.