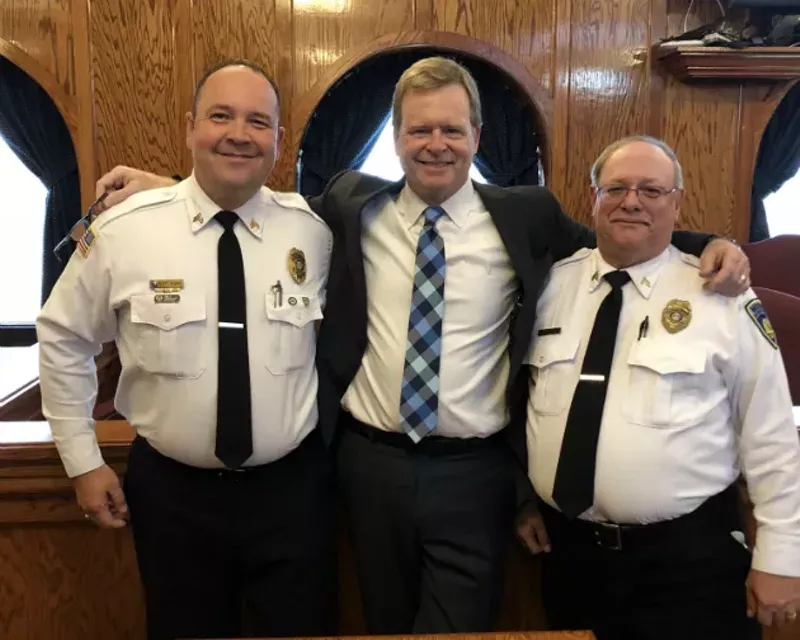 COURTESY GARY BURGER LAW
Two of the happy corrections officers with their attorney, Gary Burger, following a $113 million jury verdict.
For years, the state of Missouri stiffed its prison guards on overtime — and now it has to pay them $113 million.
Earlier today, a Cole County jury announced the eye-popping award for the corrections officers in their long-running class-action lawsuit against the Missouri Department of Corrections.
According to the filings, guards were expected to undergo lengthy scans and security checks before they clocked in and after they clocked out each shift. That part of their daily routine was unpaid, although corrections officers had long argued it should be considered part of their work.
Jurors agreed.
"I hope the Department of Corrections takes this opportunity to pay this verdict and change its systems," attorney Gary Burger, who represented the corrections officers union, said in a prepared statement.
The suit covers 13,000 corrections officers who worked for the state during all or part of an eleven-year period. In filings, Burger and attorneys from the Cuneo, Gilbert and DeLuca law firm pointed out the U.S. Department of Labor had twice before investigated the Department of Corrections for the same issues covered in the lawsuit.
In 2013, the Labor Department found the state withheld more than $500,000 owed to corrections officers for unpaid work before and after shifts at the prison in Bowling Green. The state refused to pay up at the time or change its system, citing the corrections officers' pending lawsuit, according to the petition.
A spokesperson for the Department of Corrections did not respond to a request for comment Wednesday afternoon.
We welcome tips and feedback. Email the author at doyle.murphy@riverfronttimes.com or follow on Twitter at @DoyleMurphy.