At least three black women applying to a Missouri-based chain of testosterone clinics were told that their "suggestive" and "ghetto" names made them unfit for employment — a policy that seems to amount to an astonishingly blatant example of discrimination and racism.

[UPDATE: Mantality Health's owner says the company was hacked. On July 30, 2019, a former Mantality employee, hristopher Crivolio, pleaded guilty to identity theft and admitted to sending out the bogus rejection letters. Read that update here. The original story continues below:]

The rejections were sent in writing from the company's Chesterfield office on Monday. One arrived in the inbox of a Hermeisha Robinson, who had applied for a customer service position.
"Thank you for your interest in careers at Mantality Health," the response began. "Unfortunately we do not consider candidates that have suggestive 'ghetto' names. We wish the best in your career search."
Robinson, who works as a business manager for an O'Fallon event planning company, took to Facebook hours later to publicize the interaction and expose the apparent discrimination. She attached a screenshot of the email as well.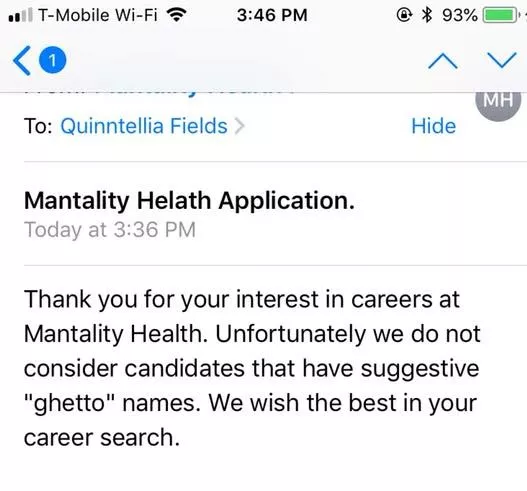 In her post, Robinson wrote that the response hadn't just stunned and demeaned her, but even made her question her own name.
"They discriminated against me because of my name," she wrote. "My feelings are very hurt and they even got me second guessing my name trying to figure out if my name is really that 'ghetto'."
The email was sent from an account belonging to a Mantality employee who has since deleted her social media and LinkedIn presences. Her email signature indicates she is a nurse practitioner with the clinic.
Robinson wasn't the only black woman who received an email from Mantality. An identical missive was also sent Monday to
a Milwaukee woman
, who posted her own screenshot of the exchange two hours after Robinson's. Both posts were quickly shared by thousands.
According to Mantality's website, the clinic "introduces overall wellness to men's lives by performing testosterone replacement therapy on men who qualify." The company maintains two branches in the St. Louis area, and also runs clinics in Iowa, Nebraska and Wisconsin.
However, the situation may be more complicated than a company proudly sharing an explicitly racist policy.
In the comment section of Robinson's Facebook post,
a third woman claimed she'd received a similar message
. She wrote that she'd spoken with a company representative — and the company claimed it had no discriminatory policy. Rather, the company purportedly told her that the emails from account hadn't actually been authored by the nurse practitioner, but by a disgruntled employee who had "hacked" into the company's account on the job-posting website Indeed.com.
A similar explanation appears in
a screenshot posted to different Facebook thread
from someone resharing Robinson's post. That screenshot appears to show a response by a company representative to a complaint about the "no ghetto names" policy — the representative claimed that "a former employee was able to guess the password to this account and send emails from it," and added, "We deeply apologize."
One person already speaking out is Robinson's attorney, Richard Dowd of Dowd & Dowd.
"Ms. Robinson is asking herself, as we all should be asking, why a business would so openly and brazenly announce and pursue a hiring policy that targets people because they are of color rather than hire people based upon their desire to work and support their families," Dowd wrote in a statement.
"What has been done to Ms. Robinson is inherently wrong, and we will pursue all legal remedies on her behalf to right this blatant injustice."
Update at 3:30 p.m.:


In an interview with
RFT
, Mantality owner Kevin Meuret says his company's Indeed.com account was breached by "potentially an ex-employee" from outside Missouri. Meuret believes that the hacker sent twenty racist rejection emails before the company became aware of the situation and shut down the Indeed.com account.
According to Meuret, the unknown hacker not only targeted black women, but also Mantality employee whose name was manually entered in the signature-field of the messages.
"For some reason it was a personal attack on her," Meuret says. "I'm deeply upset that her name was tied to something that disgusting. Anyone associated with her knows that doesn't match with anything she's said."
Since discovering the breach, the company has filed reports with the Chesterfield Police and St. Louis County's cyber crimes division. He also says that he's waiting for Indeed.com to provide the IP address of whoever managed to gain access to the company's account. The IP address could provide clues showing who accessed the account at the time the messages were sent.
Meuret says that Mantality is attempting to contact everyone who received the emails from the Indeed.com account. But the reaction from the public has already resulted in a wave of angry callers and negative online reviews.
Meuret says he feels terrible for Robinson.
"Regardless of the situation, that young lady shouldn't have to open anything that offensive," he says. "But there was no one from our organization that sent that out."

Follow Danny Wicentowski on Twitter at @D_Towski. E-mail the author at [email protected]