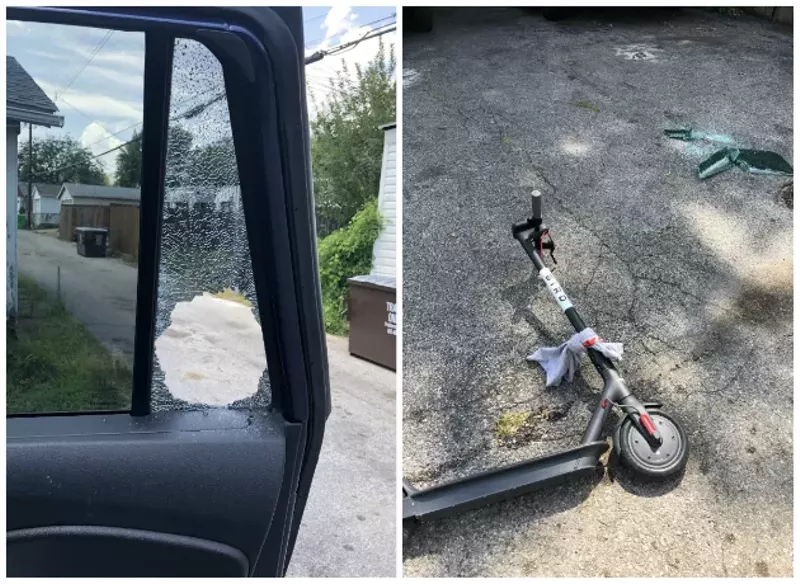 COURTESY TYLER GARCIA
Tyler Garcia's window was broken before the thief came back for the whole SUV, leaving a Bird scooter behind.
Tyler Garcia, the owner of Locoz Tacoz food truck, had a feeling he wasn't done with this thief.
Two days after a scooter-riding crook jacked his Honda Pilot, he says someone tried to break into his house while his three kids were inside with their teenage babysitter.
"I think it's the same person," Garcia says. He can't prove it, but it seems like too much of a coincidence.
On Monday, Garcia says, he'd returned from vacation and set to work deep-cleaning his food truck on the parking lot behind Court Louie (4001 Utah St.) in Tower Grove South. He says he loaded most of his kitchen gear in the Pilot while he cleaned and hauled produce into Louie's commissary kitchen.
Shortly before 2 p.m., Garcia returned to his SUV for a last load and discovered someone had smashed a hole in a side window. He first thought that a work truck driving through the alley had accidentally smacked into it or something, but he soon realized someone had tried to break in. He went back inside Louie and called police. While he waited, he thinks the thief came back and took off in the Pilot.
Garcia, 29, came outside and found only broken glass and an abandoned Bird scooter lying on its side. "The wheels were still spinning," he says.
He figures whoever took the Pilot must have been watching him, waiting for an opening to zip in on one of the city's new ride-share scooters and finish the job of stealing the SUV.
And it wasn't like Garcia just lost his vehicle. The thief got his food-truck keys, house keys, more than $1,000 in kitchen gear, $300 in cash, the iPad he used for work and, maybe most worrisome of all, his legally registered handgun.
He spent the next two days coordinating with police, his insurance company and locksmiths. The truck keys were his only set, so he couldn't even get out of the lot to get back to work.
He was still trying to get all that cleared up when, on Wednesday, he got a frightening call from his wife: Someone had tried to break into their house in Florissant.
The babysitter told them she and the kids were watching TV when one of the family's big German shepherds began to growl. She heard the sound of someone trying to open the front door and then the side door. The babysitter let the dog out the back door and saw someone in a hoodie and sweats run off.
She hustled the kids — the oldest is six — into a bedroom, locked the door and called for help.
Garcia says the thief could have gotten their address from his insurance card or other paperwork inside the stolen Pilot — and the thief, of course, would also have gotten the keys to his house. Fortunately, Garcia had immediately had the locks changed after the car theft, which may be the only thing that thwarted the break-in.
COURTESY TYLER GARCIA
The Honda Pilot shortly before it was stolen.
Now, he's not sure what to expect. The thief could still be driving his SUV and carrying his gun, he says.
Garcia's wife and kids are staying with his parents. Florissant police have told them they're increasing patrols near his place while they search for the burglar, he says. And he still needs to get his truck back on the road.
He's been saving up to open his own restaurant, but now he has to try to cover his losses and take care of his family. Making matters worse, this is the second time he's been hit by thieves in Tower Grove South.
He and Farmtruk
, which also has a home base at Louie, had gear stolen in October 2017. Still, he says he will be back in business soon.
"That's why I go and sell tacos," he says. "I've got to provide for my kids."
We welcome tips and feedback. Email the author at doyle.murphy@riverfronttimes.com or follow on Twitter at @DoyleMurphy.