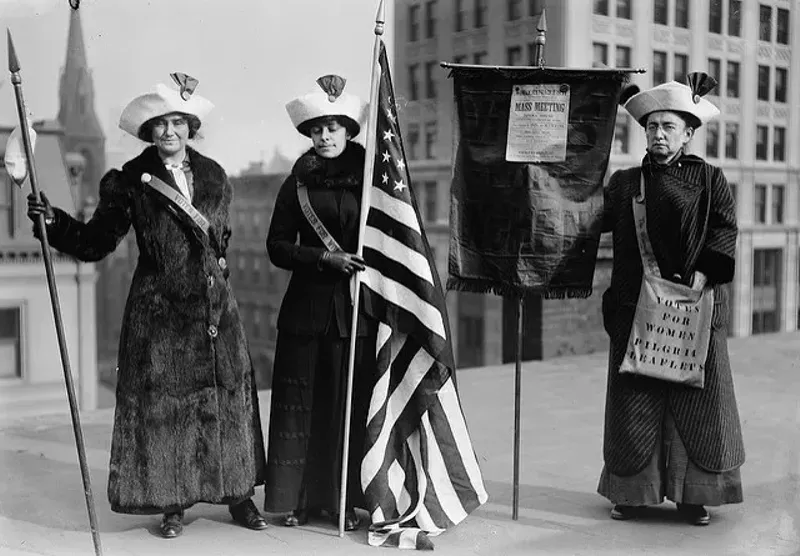 FLICKR/OREGON STATE UNIVERSITY
Did these gals chain themselves to lampposts so your sorry ass could skip the primary? We think not.
The polls opened this morning in Missouri at 6 a.m. — and if you haven't stopped by yet to cast a ballot, what are you waiting for? You've got until 7 p.m., and this election is critical.
Critical?!?
you might be asking.
This just a primary.
But that sort of thinking is wrong-headed at best. No matter what your political orientation or where you live, there is a whole lot to care about on the local ballots being given out today.
To name just a few examples:
Do you believe in "right-to-work"?
After Governor Eric Greitens signed into law legislation undercutting labor unions in February 2017, they
mounted a referendum effort
, gathering enough signatures to overturn it. Now their efforts and the legislature's will go head-to-head statewide, no matter whether you pick a Democratic ballot or a Republican one. The basic question — should workers be allowed to opt out of paying union dues, even if they benefit from union contracts — has real consequences. In 20 of 26 states that have passed right-to-work legislation,
union membership has declined
. Referendums have historically seen Missouri voters go against the legislature; still, we haven't had one in 36 years. This vote will be telling.
Do you want to see the prosecutor who handled the investigation into Michael Brown's shooting get reelected?
Progressive groups and the ACLU alike have poured money into
stopping St. Louis County Prosecuting Attorney Bob McCulloch
, who presided over the grand jury process that ended without indictment for Ferguson officer Darren Wilson. This is the first time McCulloch is facing the electorate since then, with Wesley Bell mounting a challenge from the left.
Do you want to see progressives take down a sitting congressman?
Alexandria Ocasio-Cortez famously did it in New York. Now can her friend and fellow activist Cori Bush do it in St. Louis? No less than former Governor Jay Nixon told the
New York Times the progressive message wouldn't play in the heartland
. But Bush is mounting
an energetic campaign against Congressman Lacy Clay
, who's held his seat in Missouri's first congressional district (which includes the city and some northern suburbs) since 2000. Things could get interesting.
Do you want to see Steve Stenger reelected?
The St. Louis County executive is so disliked among members of the county council that they've formed a 6-1 bipartisan coalition to oppose him at every turn. And the
St. Louis Post-Dispatch
, which has one of its top reporters on the county beat, has made the
Northwest Plaza lease Exhibit A in why citizens may want to show Stenger the door
. Challenger Mark Mantovani, a Ladue businessman, is
no one's idea of a wild-eyed radical
, but he presents a clear alternative if that's what you're looking for.
Do you want to shake up the status quo in St. Louis city's "county" offices?
Sharon Carpenter has been recorder of deeds longer than state Rep. Michael Butler (D-St. Louis) has been alive. She's also had to resign under allegations of nepotism — and faced a brutal audit accusing of her misspending $130,000. Butler
hopes to take her down
. Meanwhile, progressives are excited about Dana Kelly-Franks, a businesswoman mounting a challenge to city license collector Mavis Thompson. Thompson showed up to her interview with the
St. Louis Post-Dispatch
editorial board with a packet of opposition research on Kelly-Franks she'd apparently obtained by searching her own office's records — and
released it to the paper complete with Kelly-Franks' social-security number
. Yikes. In both cases, it's a virtual certainty that whoever wins the Democratic primary will win the seat; in both cases, voters have a clear choice between the incumbent and a younger challenger representing change.
Do you want to see Cort Van Ostran, Mark Osmack or John Messmer take on Ann Wagner?
If Ann Wagner's going down, this year's much-promised Blue Wave will surely be the catalyst to do it. So who will be the lucky Democrat to represent the party in the Missouri's second congressional district, which includes much of the county, come November? Cort Van Ostran is a lawyer who's raised a considerable amount of money (and gotten the endorsement of St. Louis Treasurer Tishaura Jones, among many others). Mark Osmack
is a military veteran
(and gotten the endorsement of progressive darling U.S. Rep. Tulsi Gabbard, D-Hawaii, among others). John Messmer is a political science professor. We shan't mention Bill Haas other than to say you might want to read his
Reddit AMA
.
Caveat voter.
Who do you want to see take on Claire McCaskill?
We'll be the first to admit — Republican ballots are a whole lot less interesting this primary than the Democratic ones. But there's one big decision to be had, and it involves the GOP's best hope of picking up a Senate seat in 2018: U.S. Senator Claire McCaskill (D-Missouri). McCaskill, a Democrat in an increasingly Republican state, will surely be the target of millions of dollars of attack ads from conservative groups — but taking her down will surely depend on just the right opponent. Establishment Republicans have their heart set on the state's fledgling Attorney General Josh Hawley, and he's been
working hard to win the nomination
working out a lot
.
The GOP primary is literally stacked with alternatives, however, each laying his claim to the outsider credentials apparently believed by Republican voters nowadays: #MAGA blusterer
Courtland Sykes
, who surprisingly appears to actually be for real and not just a McCaskill plant; Tony Monetti, a retired U.S. Air Force pilot who
got the nod from Sebastian Gorka
; and feisty Austin Petersen, who hopes to translate a large following among libertarians into Republican electoral success. (Yep, he's the guy
giving away a machine that prints largely untraceable firearms
.) Meanwhile, the guy they're all running against, Hawley, has the official backing of the RNC, a stentorious speaking voice and a very, very short record as the state's attorney general. Oh, and he's in tight with a crew that
doesn't believe in hate crimes or sexual education
.
Insurgents on the right, insurgents on the left. Like we said, a whole lot of choices. No wonder
registration cards have been pouring in
.
And while reasonable people can disagree on some of these questions, and many of these races, there's one thing that's undeniable: Unless you take the time to weigh in at the polls, we don't want to hear you complaining about the outcome. For these local questions in particular, a
very small margin
will likely determine answers that shape politics for years to come. So really, there's one big question that precedes all others:
Are you ready to quit bitchin' about how things are run in this town?
If not, get out there and vote!
Here's how to find out where to do it
for city voters
and
for county ones
. See you at the polls.
We welcome tips and feedback. Email the author at sarah.fenske@riverfronttimes.com