FLICKR/PAUL SABLEMAN
The view heading into downtown St. Louis from north county.
Forget Ladue. Forget Chesterfield. When it comes to a healthy housing market, and not just an expensive one, the north-county suburb of Hazelwood is No. 1 in Missouri.
That's the somewhat surprising finding in a new study by
SmartAsset.com
, which compared municipalities across the U.S. in four key metrics: stability, risk, ease of sale and affordability.
"A healthy housing market is both stable and affordable; homeowners in a healthy market should be able to easily sell their homes, with a low risk of losing money over the long run," the authors explain.
By those measurements, the St. Louis area absolutely dominates the rest of the state, taking all of the study's top ten spots. And Hazelwood — yes, Hazelwood — comes in first, followed by Glasgow Village, Maryland Heights, Maplewood and the Mehlville area of south county.
Here were the top finishers, per SmartAsset.com, and the stats that put them there: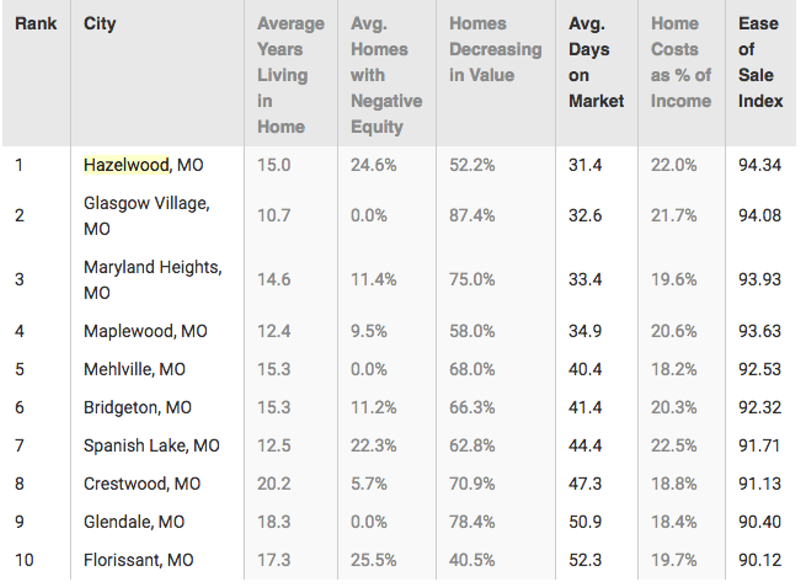 And if you want to argue that Wildwood or Ballwin or something a bit, shall we say, snootier, should be on top, let us assure you of this: Science has gone into this one.
Per the authors,
We measured stability with two equally weighted indicators: the number of years people remain in their homes and the percentage of homeowners with negative equity (as homeowners with negative equity are more likely to go into foreclosure).

To account for our second factor, risk, we used the percentage of homes that decreased in value.

To determine housing market fluidity, we looked at data on the average time a for-sale home in each area spends on the market—the longer it takes to sell, the less fluid the market.

Finally, we calculated affordability as the monthly cost of owning a home as a percentage of household income in each county and city.
You see? It's not always the far-flung streets paved with McMansions that do well in the real-estate market. Sometimes, there are bargains to be found within your salary.
And all the best ones, says SmartAsset, are right here in St. Louis. Eat your heart out, Kansas City!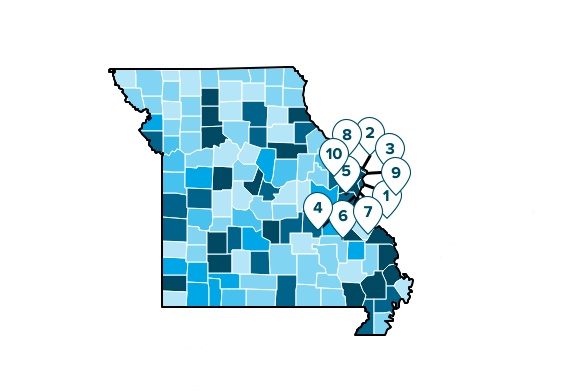 We welcome tips and feedback. Email the author at sarah.fenske@riverfronttimes.com