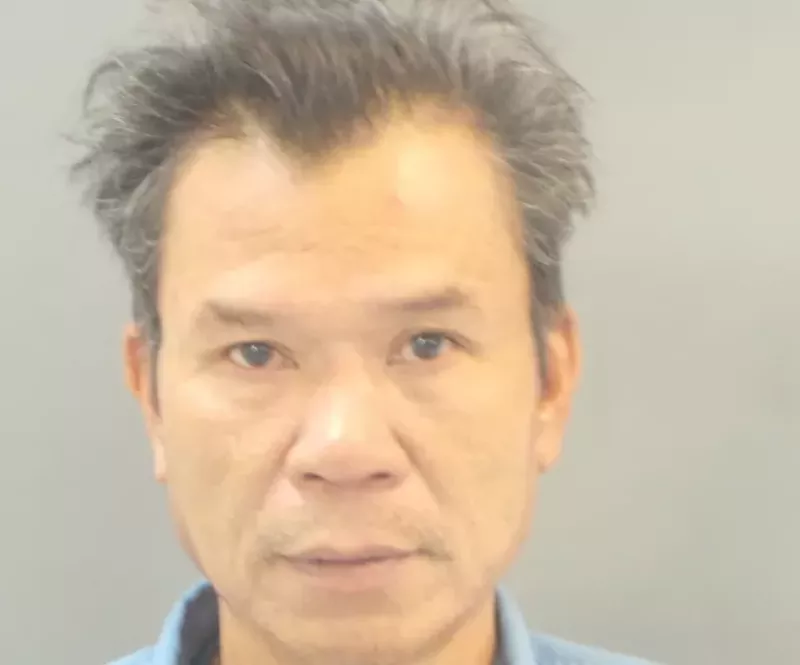 COURTESY ST. LOUIS POLICE
Khamkhay Samatmanivong is charged with murder and kidnapping.
Pissed off about a debt, an Arnold man called in a couple of henchmen who beat and ultimately killed a south St. Louis man, police say.
Khamkhay Samatmanivong, 51, was charged on Thursday with second-degree murder, kidnapping, burglary, robbery and four counts of armed criminal action.
The case dates back to November 23, 2017, when police responded to reports of a shooting outside of an apartment at 7004 Minnesota Avenue in the Carondelet neighborhood. Officers soon found 37-year-old Charles "Chuck" Keltz's lifeless body around the corner on Quincy Street.
He had been beaten, and then shot to death, according to a probable cause statement made public today.
Samatmanivong admitted to detectives he had gone to the neighborhood in search of Keltz's girlfriend, whom he claims took his money but didn't do as promised. Police haven't said what Samatmanivong was paying for, but the girlfriend confirmed to investigators he was coming after her for the debt.
Samatmanivong arrived outside the apartment first, footage from a surveillance camera showed. On the recording, he is seen making a phone call and then two other men join him.
Keltz went outside, and the cameras filmed the three men beating and kicking him, authorities say. The girlfriend later told detectives she heard shouting and hid in a closet.
Keltz tried to escape on foot, but one of the men chased him out of the camera's view. Police say he made he made it less than a block before he was shot dead.
While that was happening, the other man called in by Samatmanivong kicked in the door to the apartment. The girlfriend said she heard a crash and then the sound of someone coming through the rooms. The man eventually found her in the closet, grabbed her by the hair and dragged her outside.
She had her purse, and they took that, she said. Samatmanivong then told the men to put her in his car. The men had guns, the woman said, so she did as she was told. All three men also got in, and Samatmanivong drove off.
The woman says she asked what was going to happen to her, and he told her the other men were going to kill her. As they neared Red's Eighth Inning Bar, about a half mile away on Michigan Avenue, the woman bailed out of the car and ran inside the bar for help.
Detective Lila Payne interviewed Samatmanivong on Wednesday. She said her in report that he admitted going to the woman's apartment and calling in the other men to help him get his money back.
He told Payne the other men attacked Keltz, and he didn't plan on anyone getting killed. He provided the nicknames of the men but claimed he did not know their full names.
He was jailed on $500,000 bond.
We welcome tips and feedback. Email the author at doyle.murphy@riverfronttimes.com or follow on Twitter at @DoyleMurphy.