DANNY WICENTOWSKI
That's a lot of trash load.
This morning, an Aspen Waste truck made an emergency stop on a quiet Maplewood street after its operators discovered the truck's trashy load included a not-insignificant amount of fire. Apparently, the only solution to protect the truck was to jettison a full-load of hot garbage all over the place.
When a reporter visited the site of the trash truck's premature load-dumping around noon, the charred and putrid contents had been pushed into a medium-sized mountain range that blocked a good chunk of the 3100 block of Sutton Boulevard.
"It's barbecue season," said one Aspen worker at the scene, who declined to give his name. "It happens at least once a year. It always happens in the summer."
The employee said that this morning's incident had started when somebody threw "something hot" away, which in turn started the truck's full load smoldering. The fire threatened to consume the truck.
"Instead of the truck burning up, you gotta push it off," the worker said. He did concede that it is not ideal to splatter half a city street with a stinking load of cardboard, fast-food bags and unidentifiable grossness, but there's not much else one can do in that situation. At that point, it's the trash or the truck.
"It's not a good scenario, but it is what it is," he said.
Indeed, some pieces of trash showed char and burn marks.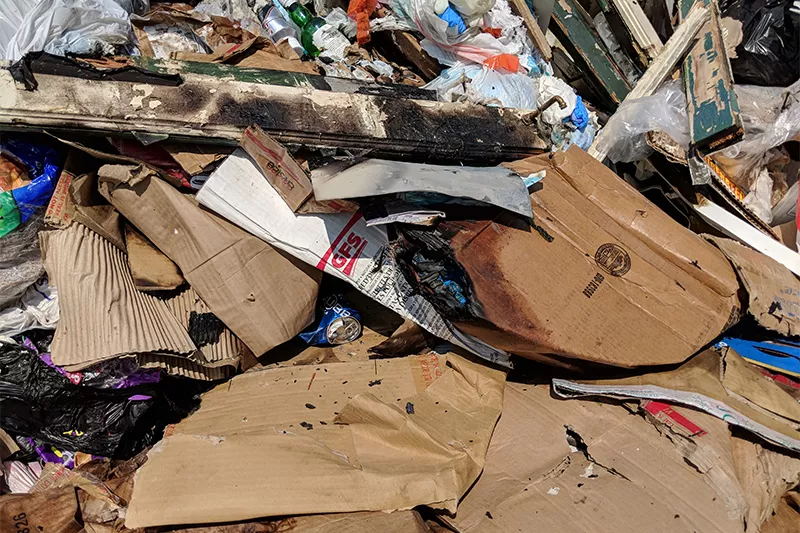 The danger went beyond some burned cardboard. In an interview with
40 South News
, which first reported on the incident, a bystander claimed that the truck was very much on fire before its emergency dumping.
"We looked outside and this guy had flames coming out the top of the trash truck and parked," Rachel Garavaglia told the news website. "They made us go inside and look through a window. It got really smoky really fast."
We've reached out to Aspen Waste for comment, and we'll update this story if we hear back.

Follow Danny Wicentowski on Twitter at @D_Towski. E-mail the author at Danny.Wicentowski@RiverfrontTimes.com