COURTESY OF MICHAEL BUTLER
Michael Butler, third from left (in light blue polo) is giving up a seat in the Missouri House to make a run for recorder.
In running to be St. Louis' recorder of deeds, state Representative Michael Butler (D-St. Louis) is challenging an incumbent who, four years ago, abruptly resigned after violating the state's nepotism laws. Longtime Recorder Sharon Carpenter has also been called out in a brutal audit for using
an office account as a six-figure slush fund
. She's been criticized by staffers for smoking in her office and dogged by allegations she
seldom comes to work
.
Yet that's not what Butler, 32, talks about if you ask him about why he's running for recorder. He says it's a generational thing. "There's a difference in how millennials campaign," he says. "We want to talk about what we're going to do."
And anyway, he admits, he doesn't need to bring up the scandals that have plagued Carpenter — voters do it for him. "This is the one campaign I've run where it's benefited me to say my opponent's name," he says. "People end up repeating the scandals to us!"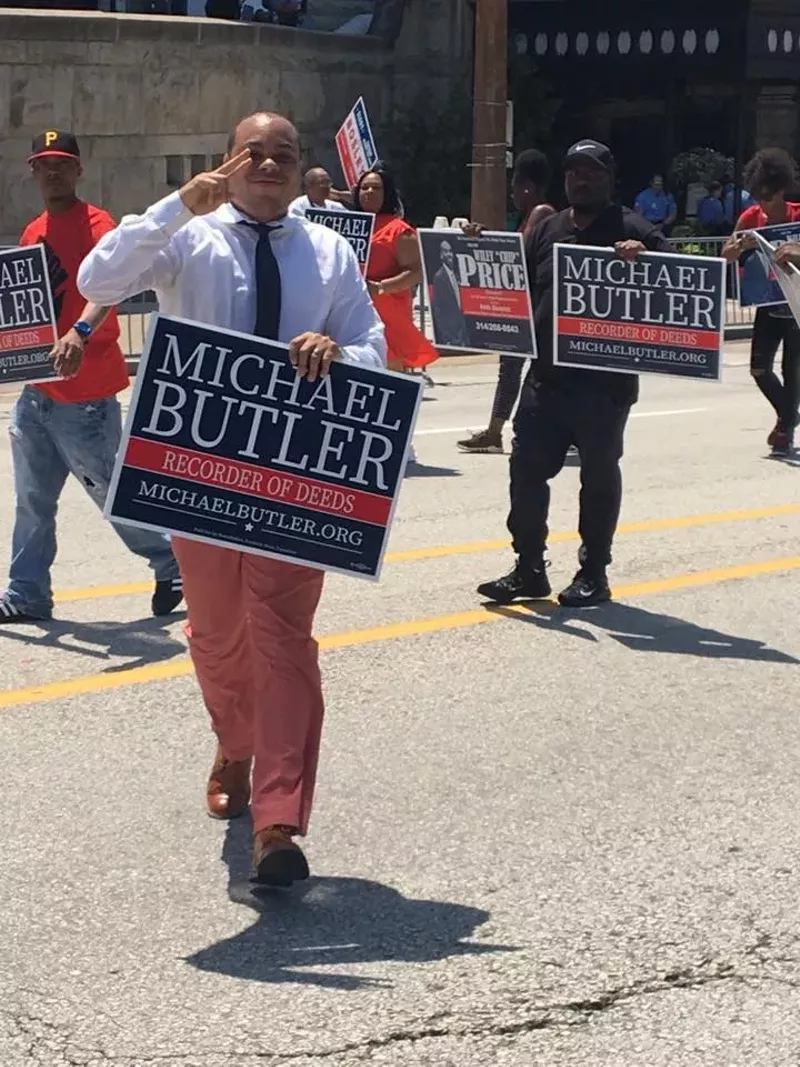 COURTESY OF MICHAEL BUTLER
Carpenter, 72, has been running the recorder's office longer than Butler has been alive. There was, however, a brief interruption in there: In 2014, Carpenter resigned after it came to light she'd hired a great-nephew. That ended the matter — prosecutors said there was no criminal penalty for nepotism, only that it required the guilty party's resignation. Carpenter did so, only to turn around and run again that very year against Mayor Francis Slay's appointee, former alderwoman Jennifer Florida.
The timing of those machinations meant Florida had to run as an independent while Carpenter still enjoyed that "D" next to her name. Not surprisingly, Carpenter quickly won back the seat. (Carpenter did not return a call seeking comment Tuesday.)
But four years have passed, and while they've been comparatively quiet for Carpenter, next week, two candidates for the recorder's office will be vying for that pivotal "D" in the Democratic primary (in addition to, yes, perennial candidate Jimmie Matthews).
Butler, who currently serves as the minority caucus chair, could likely cruise to another term in the statehouse. Instead, he's gone all-in on the recorder's race. He say he's tired of being one of 163 members; he wants to be in a position where he can make change without endlessly battling the Republicans who control Jefferson City. "I felt like I could be more effective in the city than in legislature," he says.
He has big plans to bring the recorder's office into the 21st century. He'd like to make it easier for citizens to get important documents online, for one thing. He points to his two years in management at Walmart's home office (as well as his MBA) as proof he can run things, not just deliberate.
But beyond that, he says, it's simply time for something new. "I was 26 and single when I got elected," he says. "Now I'm 32 and married and have a child — and I'm really glad people took a chance on me." But he is not from Carpenter's generation; he never intended to spend the rest of his life doing just one thing. "Most millennials, they change jobs every four years," he says. "I'm long overdue."

We welcome tips and feedback. Email the author at sarah.fenske@riverfronttimes.com