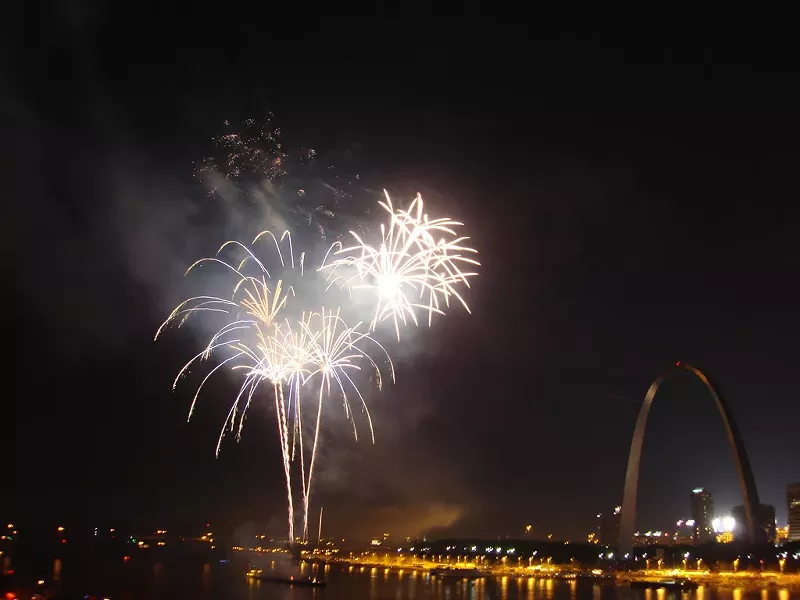 If there's one thing St. Louis loves complaining about, it's our city's
idiot drivers, smug baseball team, racist cops
ungodly addiction to shooting off fireworks at every hour of the friggin' night.
It's not just a problem on July 4 — as anyone who's spent a spring or summer night in south city can attest. But recent Independence Day celebrations have featured such a destructive cacophony of fireworks and firework-related fires that city officials are coming together to talk about possible solutions.
The meeting, scheduled for 6 p.m. tonight at the
Sheet Metal Workers' Local 36
(2319 Chouteau Avenue)
and will feature eight city aldermen and representatives from the mayor's office, according to
a Facebook event description
. The meeting is intended to "discuss concerns stemming from the rampant use of fireworks in St. Louis City such as public safety and quality of life."
This past July 4, the St. Louis Fire Department responded to dozens of blazes —
50 classified as dumpster and trash fires
. One of those incidents may have even
incinerated the Macklind Avenue Deli
in the Southampton neighborhood, although the official cause has not been released.
St. Louis isn't alone in its struggle to address rampant firework use — Los Angeles is
basically a rolling 500-mile DIY firework party on the night of July 4th
, and Columbia, Missouri plays annual host to
a literal fireworks war
— but plenty of St. Louisans are nevertheless fed up with explosives echoing late into the night and early morning.
"While I think there should be wiggle room to allow residents to have fun, there have been disastrous repercussions," said Ward 20 Alderwoman Cara Spencer in an email to
KSDK (Channel 5)
. A fireworks-related fire in Gravois Park in 2017, she notes, was linked to the death of a firefighter.
The noise, too, is hell for pets and those just trying to catch some shut eye.
"It is 3 a.m. and we're hearing this and our houses are shaking," Ward 11 Alderwoman Sarah Martin told
KMOV (Channel 4)
.
Tonight's meeting will also dedicate its second hour to discussing another of the city's longstanding civic issues: the fact that our trash service is, well,
trash.
How's that for a great twofer? Now if we could just get some attention paid to
those idiot drivers
....



Follow Danny Wicentowski on Twitter at @D_Towski. E-mail the author at Danny.Wicentowski@RiverfrontTimes.com