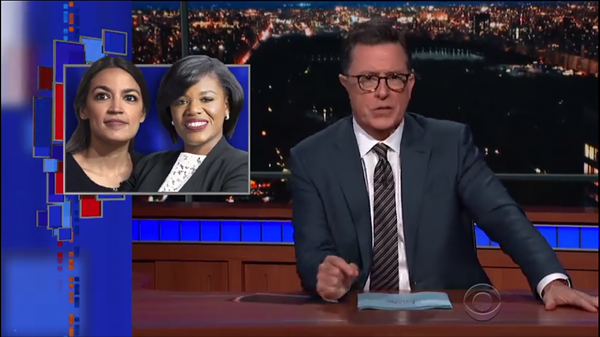 screen grab from The Late Night with Stephen Colbert video
It's difficult to tell what is satire these days, which makes Stephen Colbert's job extra tricky. How can a comedian make fun of someone who is already doing such a good job making fun of themselves? There is just so much stupidity out there that it almost feels cruel to parade the dim and dumbassed around for public entertainment. But let's do it one more time, shall we?
On Tuesday,
The Late Night with Stephen Colbert
covered a story written by a conservative author who attended the Cori Bush rally in St. Louis on Saturday. Cori Bush and Alexandria Ocasio-Cortez had come together over the weekend for a day-long whirlwind of fundraising, canvassing and rallying.
We joined them
for the canvassing and found their ideas and message to be inspirational in more ways than one.
Conservative writer Virginia Kruta found their message to be inspirational, too, and it scared the shit out of her.
In a piece
for the conservative website the
Daily Caller,
she wrote that she had this realization after the women spoke:
"I saw how easy it would be, as a parent, to accept the idea that my children deserve healthcare and education."
And also:
"I saw how easy it would be, as someone who has struggled to make ends meet, to accept the idea that a "living wage" was a human right."
Seriously frightening! Kruta even
went on Fox & Friends
and explained how her brain actually flickered on for a minute and that it was horrifying. Hey right-wing nutjobs, that's what you call getting "red pilled," right?
Alexandria Ocasio-Cortez brought up Kruta's piece on Twitter, making the best use of the "laughing so hard that you're crying" emoji that we've ever seen.
And St. Louis' Cori Bush was classy as usual, saying in part that she welcomes conservatives at her rallies.
OK, wait a minute. Hold up. We figured it out. Is this Kruta thing
one of those Sacha Baron Cohen bits
? Like we said, it's so hard to tell these days.
Keep laughing and enjoying satire, everybody.
A wise fortune teller
once said that satire might just be how we're going to escape this waking nightmare.
You can check out the
Colbert
bit here:
Email the author at [email protected]