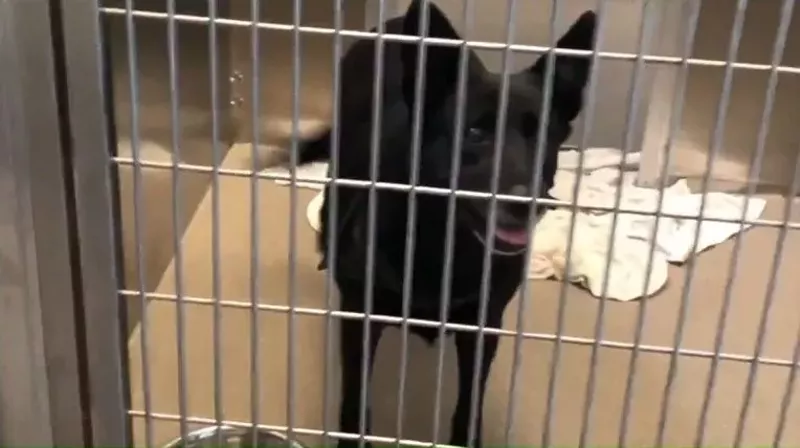 Screenshot via Fox31
Molly.
Molly is an eleven-year-old German shepherd/lab mix with a rich black fur coat, pointy ears and a tendency to get loose from her owner. She's done that twice, in fact, and now it's landed her in a bit of a predicament — two different owners have shown up to claim her.
Five years ago, Molly leaped over a fence and disappeared from the life of Jason Senseney, a south St. Louis mechanic who had raised her from the time she was a six-week-old puppy. Senseney had seen to it that Molly was chipped, but as the weeks passed and no one came forward, he assumed the worst. She had been in poor health at the time, having recently been injured in a fight with another dog.
"I thought she was dead," Senseney says.
But on Saturday, five years after Senseney had given up Molly for dead, he got a call from Avid, the manufacturer of the chip under Molly's skin. She was alive — and in the Denver Animal Shelter, 850 miles away from the home she'd run away from.
Senseney didn't hesitate. He called the shelter, provided vet records and proof of ownership and got on the road.
There was just one problem.
"Before I left, they called me back and they said someone else had tried to claim the dog," he says. "I was like, 'That's not happening, it's my dog and I'm on my way.'"
Twelve hours later, on Sunday morning, Senseney pulled into the shelter parking lot. He remains in Denver three days later, waiting on the shelter's legal counsel to decide Molly's fate.
The problem is that Molly
does
have another owner — a man whom Senseney believes found Molly in St. Louis and adopted her. It was from this man that Molly apparently ran away more recently, before winding up at the Denver shelter. (It's not clear where the new owner lives, but it seems logical that perhaps he moved from St. Louis to Colorado at some point and took Molly with him.) Both Senseney and the recent owner arrived at the shelter Sunday, and both assumed they were walking into a reunion. Instead, the situation has developed into a bitter custody battle.
Yesterday, Senseney was finally permitted to see Molly, but only through the bars of a cage.
"Do you remember me?" Senseney whispered at her, the moment captured in a video posted by a local Denver TV news station. The long-lost dog whined, licking and pawing Senseney's fingers.
In an interview, Senseney says that the shelter initially told him they'd have a decision by Monday. That turned into Tuesday. More than three days later, he's still waiting.
"It's just been shocking and heartbreaking all in one," he says. "This is the reason why you get your dog chipped, so if she's lost you can find her. The guy who found her never took her see if she's chipped; he just took her in."
(Since the other potential owner has not been publicly identified, we had no way of reaching him for comment. We'll update this story if we hear back.)
What happens next is up to the Denver Department of Public Health & Environment, and it's a decision King Solomon surely wouldn't envy.
In a statement, Ann Cecchine-Williams, the department's deputy executive director, said the organization will take its time before acting.
"Currently, Denver Animal Protection is researching the situation and taking a deep dive into both sides of the story so that we can be as informed as possible moving forward," Cecchine-Williams said in an emailed statement. "We understand this is an emotional issue for all involved, and we will be careful and thoughtful as we evaluate the matter."
In the mean time, Senseney has rallied support for his cause, both on Facebook — where his story has been reshared by supporters and animal groups — and on TV, where he's already been featured in a handful of news stories in Denver and St. Louis.
"I'm trying to stir shit up, because I think it's bullshit," he says. "I'm not the type of person that's going to give up."


Follow Danny Wicentowski on Twitter at @D_Towski. E-mail the author at Danny.Wicentowski@RiverfrontTimes.com