photo by Jaime Lees
Cori Bush and Alexandria Ocasio-Cortez going door-to-door.
After she stunned the nation by winning the Democratic primary in New York's 14th congressional district less than a month ago, Alexandria Ocasio-Cortez's fans and the media started calling her a political "
rock star
."
Ocasio-Cortez quit her restaurant job to focus on running for Congress just six months before defeating longtime U.S. Representative Joe Crowley (D-New York), chair of the Democratic Caucus. This was a bigger story than just an inexperienced progressive knocking out a incumbent who thought he was set. Ocasio-Cortez's victory was hailed as proof that progressives might actually stand a chance this primary season. And, in a bigger sense, her victory was seen as the first drop of water in an upcoming blue wave.
But the story of Ocasio-Cortez also caught fire because victories like this are so rare. The 28-year-old former bartender was not entirely inexperienced in politics (she'd been a community organizer and worked for Bernie Sanders' 2016 campaign), but she was an average American who decided to try to make a difference — and won.
photo by Jaime Lees
Alexandria Ocasio-Cortez hangs out with volunteers.
Fresh off her victory, the Bronx native has been jetting across the U.S., capitalizing on her popularity. And though she's had some unwanted attention (
her comments
about the Middle East brought negative press last week), she remains the golden child of the progressive wing, appearing with Bernie Sanders in Iowa just one day before she dropped into St. Louis to lend her support to Cori Bush during a day-long marathon of fundraising, canvassing and rallying.
Bush is also running against a long-time Democratic incumbent. Representative William Lacy Clay (D-St. Louis) has held his seat in Missouri's 1st congressional district for seventeen years after taking over from his father, who held it from 1969 to 2001.
In addition to being an activist and an organizer, Bush is a St. Louis native, a pastor and a nurse. She is very personable and she stands proud and balanced between fearlessness and heart. Impressive on paper, up close she radiates confidence, warmth and ability.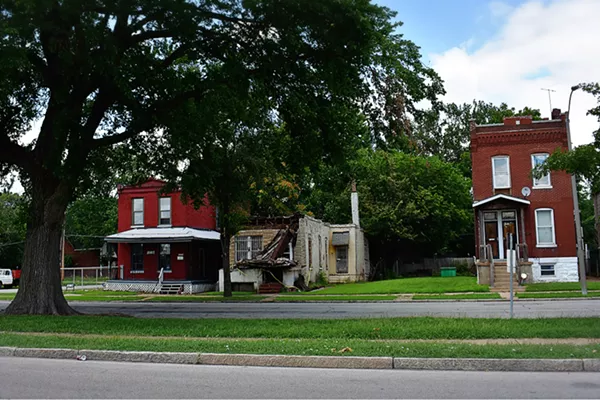 photo by Jaime Lees
The canvassing area on Kossuth Ave.
On Saturday afternoon, Ocasio-Cortez, Bush and a crew of campaign volunteers dressed in purple (Bush's signature color) canvassed houses along the northern edge of Fairgrounds Park in north city.
When the women arrived on site earlier in the day, each gave a quick pep talk to the volunteers, reasserting the goals for the canvassing session, for their campaigns, for the future. Ocasio-Cortez said, "I follow Cori's leadership. She is an example to me." None of Bush's volunteers seemed surprised that she was pounding the pavement with them just months after a bad car accident. Even though Bush's doctors asked her to cool it, the canvassing team saw her dedication as inspiration.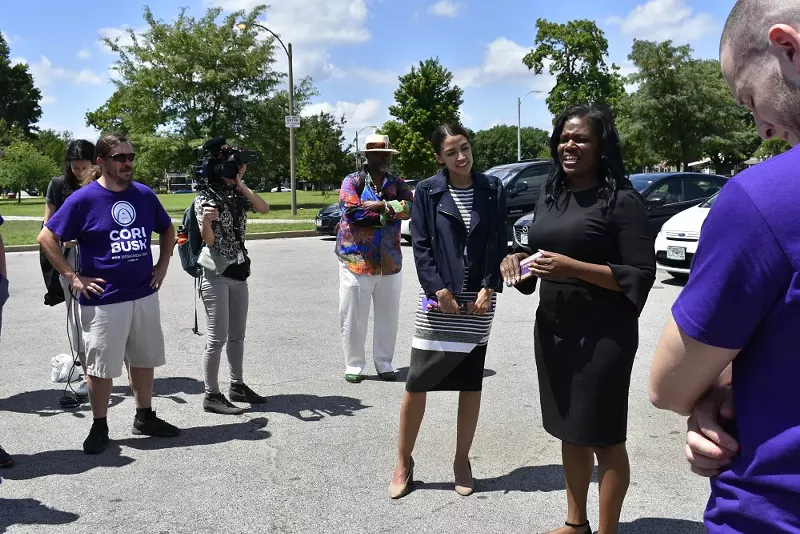 photo by Jaime Lees
Cori Bush speaks to her enthusiastic volunteers.
One woman who was also inspired on Saturday was Elnora Daniels. She was kind enough to open her door to Ocasio-Cortez, Bush, the volunteers and some very intrusive media cameras.
Daniels had been busy pulling up the carpeting in her living room and apologized profusely to her unexpected guests for the disarray in one room of her otherwise immaculate house. It was beautifully decorated and obviously cared for by Daniels, who is shockingly spry for a great-great-great-grandmother. Inside this well-kept sanctuary, you'd never suspect that the block included abandoned and demolished houses and a heavy crime rate.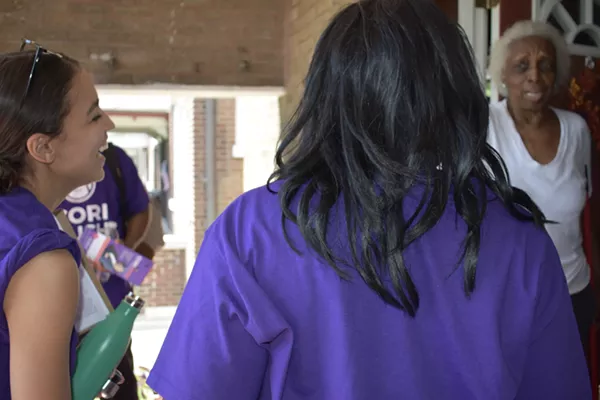 The two politicians entered her home and talked about their key issues, displaying a powerful sense of connection. Daniels listened carefully and promised to vote in the August 7 Missouri primaries. Before leaving, Bush thanked Daniels for letting them barge into her house.
"God gave it to me," she told them sweetly. "So anybody's welcome."
photo by Jaime Lees
Elnora Daniels shares a laugh with the candidates.
As the afternoon went on, Bush's body began to rebel. Her limp became more pronounced and she held hands with and leaned on Ocasio-Cortez for support. The two women have a history of
lending each other support
, but on this day the bracing was physical as well as political.
It was (ahem) a metaphor for the current progressive movement, where the candidates seem to be doing a good job of sticking together and supporting each other. The unity is impressive.
Still, they're facing an uphill battle. During her speech to the volunteers, Ocasio-Cortez said, "What Cori is doing is giving people something to vote for, not just something to vote against." This is a common line among progressives, but it frequently rubs non-progressives the wrong way, because there is
plenty
to vote against.
And people who think the No. 1 goal has to remain beating the GOP sometimes take umbrage at progressives who take on incumbents in their own party. They don't like contested primaries and they don't like outsiders taking on insiders,
even if they agree with their values. They fear that the fractured Democratic Party will become so weakened by in-fighting that we will end up with terrible situations like… let's say... a psychopath reality television star in the Oval Office and a bunch of feeble leaders who can't seem to organize a way out.
That's one reason door-to-door canvassing is so important. Once you meet a smart candidate like Bush face-to-face, it is easy to be won over by her enthusiasm. And progressive insurgents like her (and Ocasio-Cortez) are also emphatic about offering something essential that the major parties seem to have forgotten: hope and change. (
Remember that?
)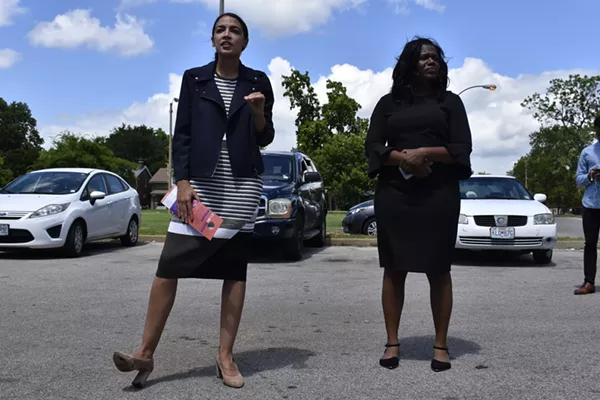 photo by Jaime Lees
Ocasio-Cortez inspires the crowd.
Ocasio-Cortez had declined one-on-one interviews over the weekend, but she didn't mind answering a question from a reporter as she prepared to knock on doors. We sought her advice on how to proceed when the next move isn't obvious. What is the average American to do when they want to see a change in their government and they don't know how to help? If you already vote, donate and whine on social media and still feel impotent, what are the other options short of actually running for office?
Ocasio-Cortez offered the best answer to this problem that we've heard yet: "Donate skills." Much of her campaign, she explained, was run by people who just showed up and lent their expertise. She suggests finding a candidate who you can get behind and if you are good at something, volunteer to do that.
Maybe you can code, maybe you're a good photographer, maybe you have PR experience, maybe you're great at talking to people, or maybe you're even good at hitting up your friends for money. All kinds of skills can be useful. You just have to show up.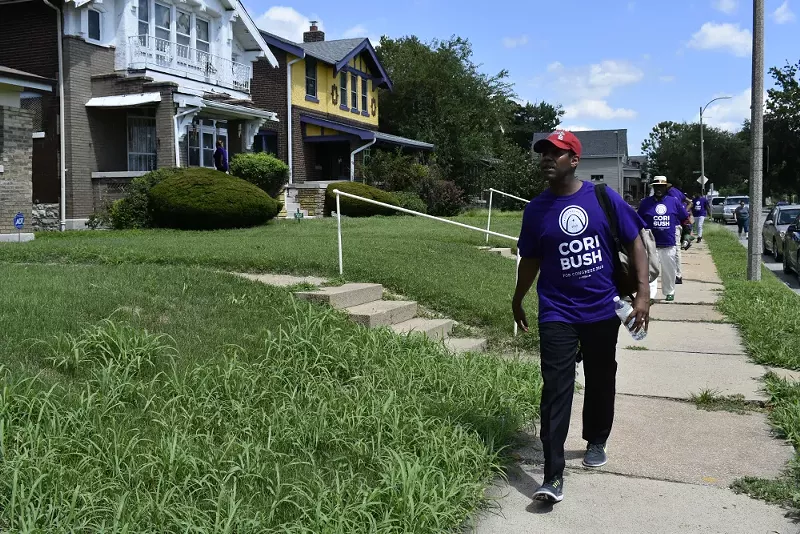 photo by Jaime Lees
These are the real heroes of democracy.
In many ways, the growing progressive community is set up much like underground music community. Think of the candidate as the band and the volunteers as the fans. Their version of hanging flyers around town is leaving signs on residential doorknobs. Yard signs = band t-shirts. Eventually, the name of the band (or candidate) becomes familiar. And if you play enough shows (or, yeah, knock on enough doors), you start to get a reputation locally. Then you get asked to open for bigger bands who have already found success (see: Alexandria Ocasio-Cortez). Soon enough, you're playing the biggest venues in the country (Congress).
It's fascinating to witness. And, yes, this particular event had been crafted for the cameras, but the people in the purple shirts have been out here on the streets for months on end (and, recently, in the terrible St. Louis heat and humidity) to do the thankless, tedious job of trying to get people to vote. And Bush is there with them.
Whatever your political opinions, it's inspiring. Maybe the hardworking, starry-eyed idealists will actually get to take over soon. Or maybe they'll simply be successful enough that the Democrats will realize that our way of life is under threat and they'll suddenly grow a pair and find a way to fix the widening gyre of this current political disaster.
These women are shaking up the system on their own with few funds (no corporate PAC money!) and nothing but big ideas and endless determination. They have everything pushing against them (their gender, their heritage, their financial limitations) and nevertheless, they persist. That's punk as fuck.
photo by Jaime Lees
Putting the STL in hustle.

Email the author at [email protected]