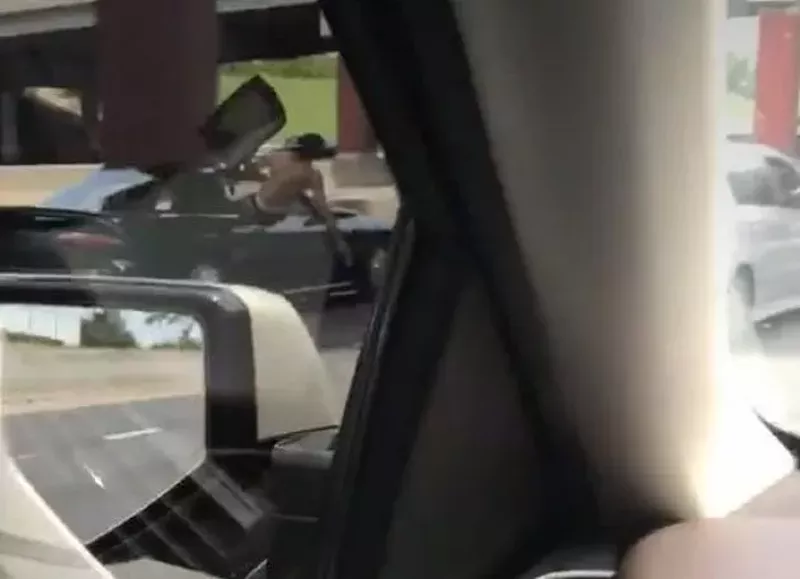 SCREENSHOT FROM VIDEO BELOW
A viral video making the rounds Tuesday afternoon shows a man having a really, really bad day when his attempt to show out like the wild man he clearly is goes suddenly and disastrously wrong, leaving him rolling down the middle of the highway at high speeds.
The video was shared on Facebook by a user named Chad Rivera with the caption "Only in St. Louis." The brief, twelve-second clip shows what looks to be a Pontiac Firebird blasting down the highway with a shirtless man sitting on the edge of the passenger-side window, the upper half of his body hanging out while he holds onto the roof.
No sooner does the cameraman get his phone pointed at the spectacle when suddenly the roof gives way — a T-top appearing to suddenly bust loose — and the man falls entirely out of the car and onto the highway.
When last seen in the video, the wild man is tumbling through the second-from-left lane as Rivera passes him while making an "oh shit" face. The video cuts off there.
It is unclear exactly where the incident took place, or the condition of our fallen hero. We reached out to Rivera, but didn't hear back immediately. (We'll update this post if we learn more.) Our sincerest hopes that the stuntman wasn't killed or seriously injured; surely we can all agree we need more of this maniacal behavior here in St. Louis, not less.
Not that St. Louis
isn't already wild as shit or anything
, but still. Get well soon you crazy diamond.
[UPDATE: Rivera got back to us. He says he saw our fallen wild man stand up and walk to the side of the road after taking the tumble, so he "kinda figured he is OK." Here's hoping!]
Watch the video yourself below: