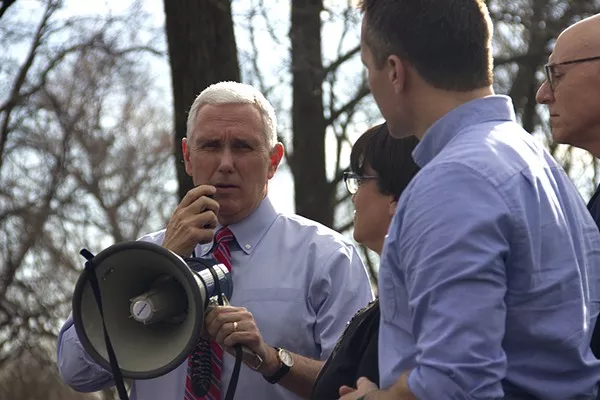 Photo by Danny Wicentowski
There is exactly one downside to Donald Trump potentially being impeached and removed from office, but it's a big one: President Pence.
The celebration that would occur after Trump's removal from office would soon be followed by one hell of a hangover: Michael Richard Pence (yes, his middle name is "Dick") would take over the presidency. That's all a vice president is for, really — to serve as the understudy in case the lead actor is jailed, incapacitated, assassinated, etc.
But just because Trump is an exploding volcano of choking, sun-blocking ash doesn't mean that Pence's underground river of poisoned water is any less toxic. Mike Pence is all kinds of not cool; he just hides it better.
Pence manages to profess moral superiority over the masses even while serving as amoral Trump's No. 1 enabler. Pence stands behind Trump figuratively and literally,
lovingly staring at the back of his big dumb
head like it's the face of Christ. He's a spineless, opportunistic brown-noser. Pence will participate in this insane,
disgraceful
administration until everything finally goes to hell, at which point he gets to take over. What a deal!
And it's no surprise that there is already a protest scheduled to "welcome" Pence when he visits St. Louis this Thursday, July 19. In fact, there are multiple organizations orchestrating protests of his visit. St. Louis shows up. And
as one organization said
, "We're not going to let him show his face in St. Louis without giving him a piece of our minds."
Protesting Pence is personal this time because the Vice Dick is scheduled to make an appearance downtown at the Marriott St. Louis Grand
(800 Washington Ave., 314-623-9600)
at an event sponsored by America First Policies, an organization formed to "promote the policy agenda of the Donald Trump presidential campaign."
America First Policies is accused of having a part in funneling millions of dollars of
dark money
into the campaign of disgraced former Missouri governor Eric Greitens. (Before Greitens
cowered and resigned
after embarrassing the shit out of himself by still pretending to be a family man, that is, after he was accused of being an alleged
sexual predator
and
an alleged
thief
.)
As it turns out, St. Louis residents have something to say about
all
of this and more. And they're going to let Pence hear it. To find out the latest information about the protests, follow the events
here
and
here
. And let's hope that somebody shows up and does
the kind of protesting
that you know Pence just can't stand. Yay for the
freedom of twerking
— er — assembly.
Email the author at jaime.lees@riverfronttimes.com