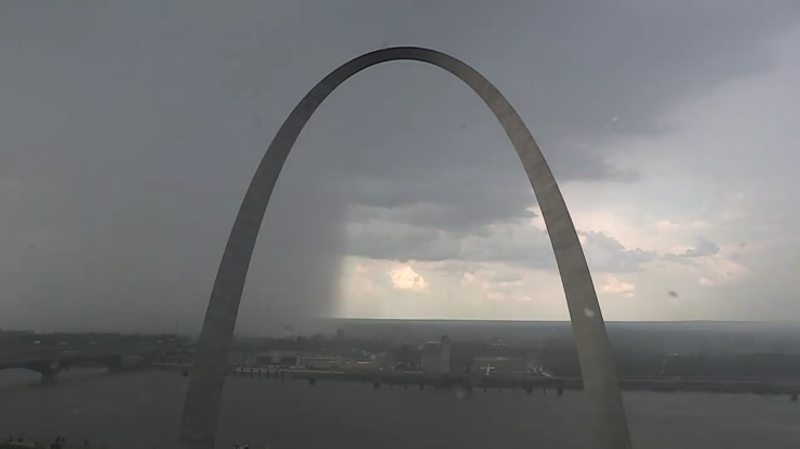 That storm on Saturday was something else. Severe thunder and tons of lightning would've been scary enough, but it was the hurricane-style sideways rain that had all of us peeking our our windows and wondering if it was the end of the world.
And something else of note happened during that storm, too. St. Louis was treated to a "wet microburst."
What is that? (Aside from your mom's nickname in college.) According to
Matt Chambers at KMOV
, "A microburst is a localized column of rapidly sinking air within a thunderstorm. In the case of a wet microburst, the updraft of the thunderstorm is so strong that it holds literally tons of raindrops and hailstones up inside the thunderstorm, until... Boom! Suddenly, the updraft weakens and can no longer support the weight of that large core of rain and hail. So, it all comes crashing violently to the ground."
As you can see below, it's as if a roof full of rain just suddenly collapses in one spot. It looks like God just pushed the lever and flushed his toilet right down over poor East St. Louis.
Check it out:
It's not just the video that's blowing our minds. Check out this collection below of totally bonkers storm porn.
Here you can see the storm from the steps of the St. Louis Art Museum:
And this guy here needs a thunder shirt:
Just listen to this one:
What? OMG:
Incoming:
Scary:
Duck and cover, y'all!
Thing got crazy in the city:
Maybe it's time we all bought boats. If things continue like this, that Big Muddy is going to eat us all.
Email the author at jaime.lees@riverfronttimes.com