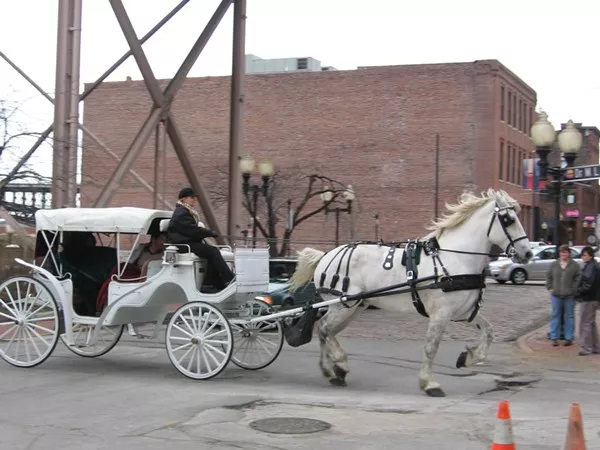 FLICKR/STRAIGHTEDGE
A horse-drawn carriage operates in Laclede's Landing.
New regulations issued by the city of St. Louis last week bar horse-drawn carriages from operating on any day it's expected to reach 93 degrees Fahrenheit — and keeps them off the street for 24 hours in such instances.
The edict passed down last Wednesday reverses a previous regulation, enacted earlier this summer, which had stopped the carriages from operating only while it was 93 degrees or hotter.
Horse carriage operators say it will put them out of business.
Aiden McNamara, who operates Claddagh Carriage Company, says the change caught operators by surprise and "ignor[es] the advice of professional equine veterinarians."
"With hot St. Louis summers, this new regulation will make it impossible for the companies to financially survive, taking an estimated 30-40 tourist days from the industry," he wrote in a prepared statement. "Stripped of the little remaining tourism trade, it will only be a matter of time before the carriage companies are forced to let employees go and close their businesses for good."
Koran Addo, a spokesman for Mayor Lyda Krewson, says that is absolutely not the intent — and, he adds, it won't be the result. "The mayor's not going to put anybody out of business."
But he says Krewson has a simple goal: "She wants to prohibit them from operating on days that are too hot." And the previous rule was simply too difficult to monitor in real-time.
The operators, though, say the rules will hurt not only them, but one of the city's most beloved icons, the Budweiser Clydesdales. The regulations, McNamara notes, cover "any vehicle powered in whole or part by one or more horses."
"With the world famous AB-InBev Clydesdales residing within the City limits, these regulations could inadvertently apply to the Clydesdales, risking future appearances and tour operations, while potentially angering one of the City's largest employers," McNamara says in his statement.
Addo, though, says, something had to be done. After the previous regulations were put into place, he personally witnessed some carriages operating a day when the temperature soared far past 90 degrees.
And it could be worse, he says. Some cities restrict carriages on days when the mercury rises past 91 degrees: "The mayor thought 93 was a good compromise."
We welcome tips and feedback. Email the author at sarah.fenske@riverfronttimes.com