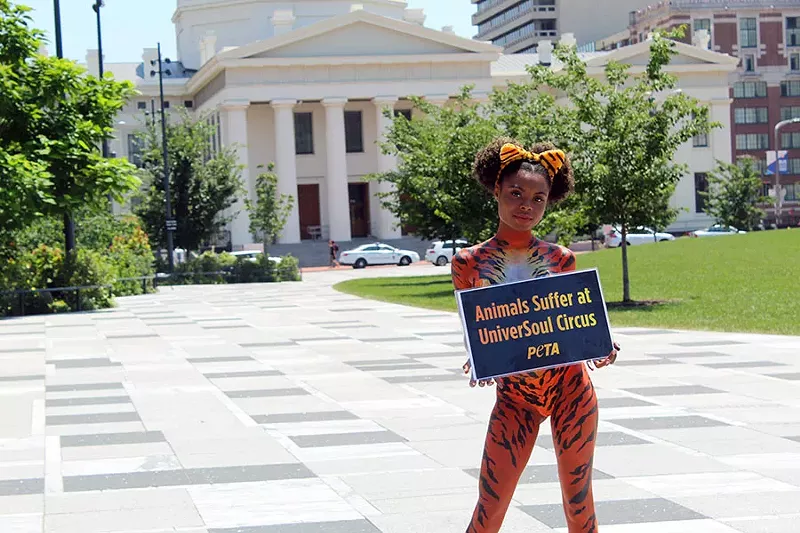 LEXIE MILLER
PETA was talking to passerby's on the street about the circus.
PETA, or People For The Ethical Treatment of Animals, held a protest this afternoon targeting the UniverSOUL Circus, which opens at the Dome at America's Center tonight.
Naturally, they did it with a young woman and body paint.
PETA claims that UniverSOUL abuses their elephants and tigers, so a member of the organization stood at Broadway and Chestnut wearing only her underwear and body paint. She carried a sign that read, "Animals suffer at UniverSOUL Circus."
"UniverSoul Circus denies tigers, elephants, and other animals everything that's natural and important to them—just for a few fleeting minutes of human amusement," PETA Foundation Associate Director of Captive Animal Law Enforcement Rachel Mathews said in a prepared release. "PETA is calling on everyone to refuse to buy tickets to any circus that still uses animals."
Circuses have become a frequent PETA target. Saint Louis University recently canceled performances by the Garden Bros. Circus, which had been slated for Chaifetz Arena last month.
PETA's behind-the-scene campaign led the university to pull the plug.
UniverSOUL Circus is a national act. It's slated to perform in St. Louis from July 12 to 22.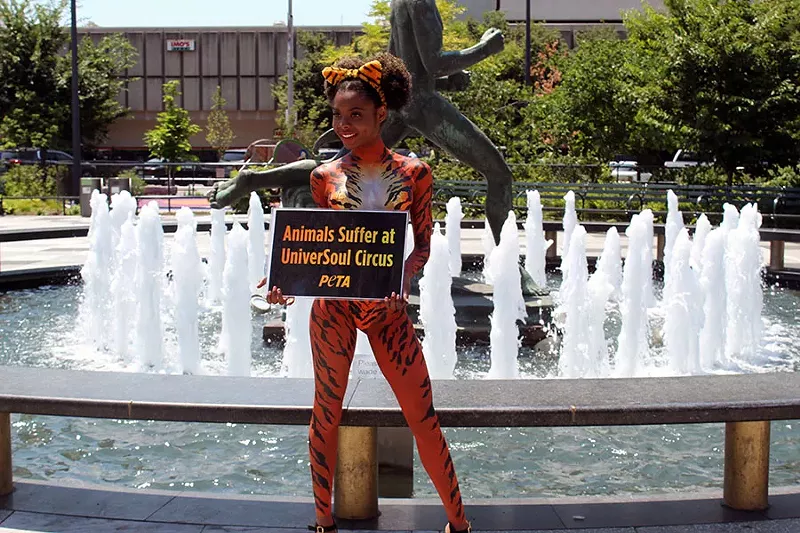 LEXIE MILLER
The woman stood out front of the Old Courthouse and also the park across the street.