VIA YOUTUBE
Alexandria Ocasio-Cortez is the new darling of progressives.
She's a rising star in progressive circles despite not yet formally clinching her seat for Congress. But Alexandria Ocasio-Cortez, who upset a sitting congressman in New York's Democratic primary last month, hopes to aid Cori Bush in her quest to do the same in St. Louis. And she's coming to town next weekend to lend Bush a touch of her starpower.
The Bush campaign has
created an event page
to promote an Ocasio-Cortez visit to St. Louis on July 21. While the location is still to be determined, the event is listed as taking place from 6 to 9 p.m.
"It's Cori's birthday and GOTV (Get Out The Vote)," the announcement explains. "Come join in the fun, meet Alexandria, and help us excite voters to the polls for August 7th!"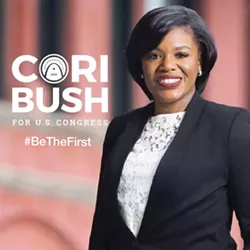 Bush, a 41-year-old nurse, ordained minister and community organizer, is challenging U.S. Representative William Lacy Clay Jr. (D-St. Louis) in
Missouri's first congressional district
, which includes the city of St. Louis, a host of north county suburbs, and a few other suburbs close to the city (University City, Clayton, Olivette).
Her longshot challenge has gained new excitement after Ocasio-Cortez's victory last month. Both women eschew donations from corporate PACs; both have received backing from
Brand New Congress
, a group formed by former staffers of Bernie Sanders.
Thanks to that organization connecting them months ago, Bush says,
they've even become friends
, and one of Ocasio-Cortez's first post-election tweets was in support of Bush's campaign. That support (and the similarities in the women's aims) has led to a surge of attention for Bush, including
a favorable story in the New York Times
and a
tweet from comedian Chelsea Handler
.
And while winning Clay's district will surely be an uphill battle, there's some precedent for such upsets in St. Louis — another speaker scheduled for Bush's Get Out the Vote event is state Rep. Bruce Franks Jr. (D-St. Louis), who took out a member of the city's Hubbard dynasty to win his statehouse seat.
Update:
the campaign has also added a morning fundraiser featuring Ocasio-Cortez, this one kicking off at 9 a.m. at Sqwires (1415 S. 18th Street).
We welcome tips and feedback. Email the author at sarah.fenske@riverfronttimes.com