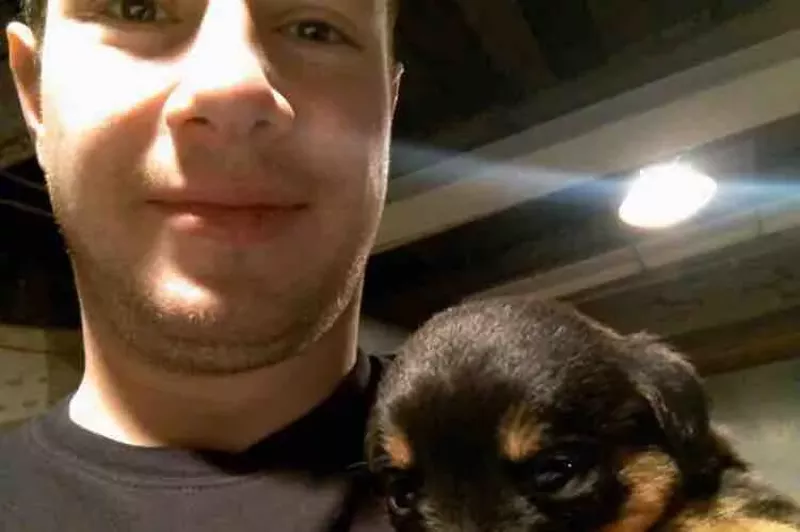 VIA GOFUNDME
Dave Matthews, 31.
After an Imo's delivery driver was shot in Tower Grove South last Wednesday, his friends quickly put up a GoFundMe page titled "Help Dave Heal."
But even as thousands of dollars poured in, on Sunday, his friends were forced to change the name of the page: "Help with Dave's funeral expenses." Dave Matthews, 31, succumbed to injuries from the shooting just after midnight on Sunday, July 8,
his family told Fox 2
.
Matthews had been delivering pizza just before midnight near Gustine and Potomac on July 4 when he was reportedly shot twice in the neck. He endured hours of surgery, and initially, his sister wrote on Facebook,
according to KSDK
, they were hopeful.
But then, early Saturday morning, pressure in his brain caused a major stroke.
"Not the kind that you can recover from, this one took everything he had left," his sister wrote. "He was no longer responsive. Throughout the day his vitals were proving what we feared most. He was not there anymore, he was just a shell. At about 12:30 am my funny, quirky, compassionate, sincere, music loving, animal loving, goofball of a brother left us completely."
Friends are devastated. As
the organizers wrote on his GoFundMe
, "Dave would give you the shoes off his feet. He's always there for you, caring, fair, and compassionate."
Added another, "Dave, my family and I are thinking about you. You are one of the nicest people I have ever met and I thank you for the kindness you showed me when I went to St. Louis last fall."
The GoFundMe had raised more than $11,600 as of press time.
We reached out to police this morning to see if they had any additional information as to the investigation. We'll update if we hear back.
Anyone with any information about the case is encouraged to call St. Louis Police or CrimeStoppers at 1-866-371-TIPS.