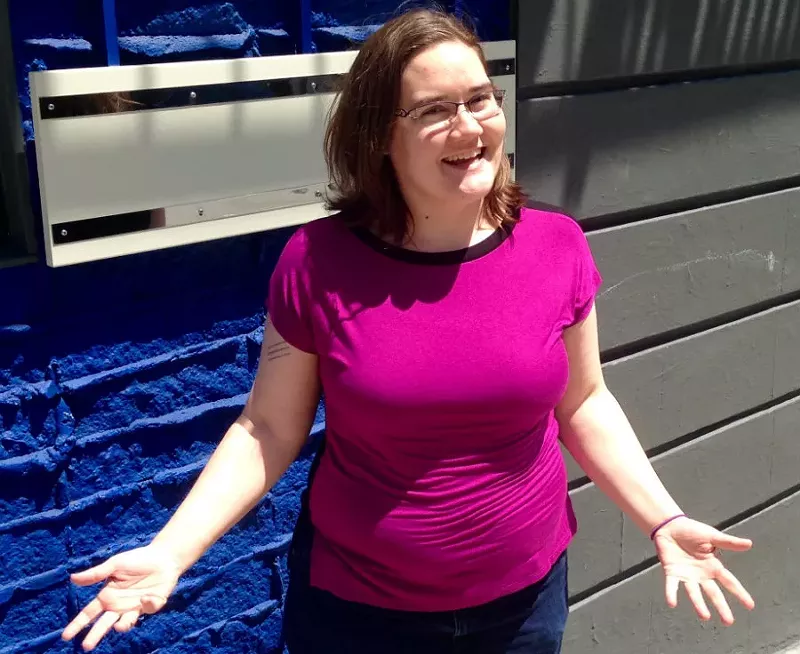 COURTESY OF JULIE SETELE
The author had an abortion during her time in a Ph.D program.
Every day Trump does something new that frightens me.
He has already made one lifelong appointment of an arch-conservative to the Supreme Court. With Justice Kennedy's announcement last week of his retirement, Trump will have a second chance to push the court even further to the right.
We've heard it before, but this time it's not a drill:
Roe v. Wade is under attack. It is imperative that we stand up and fight back.
I got pregnant when I was a 24-year-old grad student. The pregnancy was unplanned and unwanted, and soon terminated. I am grateful that I made that decision and that I was able to do so, legally and safely. My story is precisely the same as so many others, and yet precisely unique.
Like most people who have abortions in this country, I was using birth control during the month that I became pregnant. Overwhelmed with teaching my first college course, I forgot to pick up my prescription. When my boyfriend came to visit that weekend, after the pharmacy had closed, I told him we'd have to use condoms. He was displeased and said so. Fueled by youthful hubris and a gendered desire to please, I agreed to risk it. When I discovered I was pregnant, he played the romantic Good Guy™, insisting we could make it work, while I served up pragmatic realism. For me, the "choice" was clear. I did not want to be a parent, at least not any time soon and maybe not ever. Four years into a Ph.D program, I had more than enough on my plate. My boyfriend breathed a quiet sigh of relief.
Unlike most people who have abortions in this country, I was fortunate to live at the time in a pro-choice state. I faced no waiting periods and no mandatory medically-inaccurate "counseling." I obtained a referral to an abortion provider 30 minutes away. I provided my insurance information and was pleased to learn that my public employer's plan would cover 80 percent of the cost (my boyfriend and I each chipped in about $40). I arranged for one friend to drop me off and another to pick me up, and I waited alone in the waiting room. I opted for local anesthetic and endured five minutes of the most excruciating pain of my life.
Then I was free. I was just me again.
If I became pregnant now and sought an abortion, it would be a much more arduous ordeal. Living in Missouri, I would be required to receive state-mandated "counseling" that contains factually inaccurate information, and then wait an additional 72 hours after hearing those lies before I could have the procedure. (I am lucky to live in one of three Missouri counties that actually has an abortion clinic, so two office visits, three days apart, would be frustrating but manageable; 80 percent of Missouri women are not so fortunate.) Missouri law prohibits health insurance companies from covering almost all abortion services, so I would have to raise at least $500 to cover the cost. If I were a minor seeking an abortion in Missouri, I would also need my parent's consent.
I had an abortion at a time when I was unwilling and unable to become a parent. My decision to terminate an unwanted pregnancy prioritized my self-determination. I chose myself, and I am proud every day of that choice.
It is vital that all people who can become pregnant have that choice. It is imperative that we have the right to not be parents or to be parents, as we so choose, and that we have the right to raise our children if that's the choice we make. At a time when U.S. government agents are jailing children and parents at the border, killing black and brown people with relative impunity, and poisoning the very air we breathe, it has never been clearer that all oppression is connected.
Resistance is the only way. Call Senators McCaskill and Blunt today to insist that they only confirm Supreme Court nominees who will defend reproductive freedom and Roe v. Wade.
Julie Setele, Ph.D., is an assistant professor of sociology and criminology at Webster University in St. Louis. She teaches about reproductive justice, human rights and intersectional feminism. The RFT welcomes concise essays on topics of local interest, provided they are not direct appeals for a vote by candidates for office. Contact sarah.fenske@riverfronttimes.com if you've got something to say.