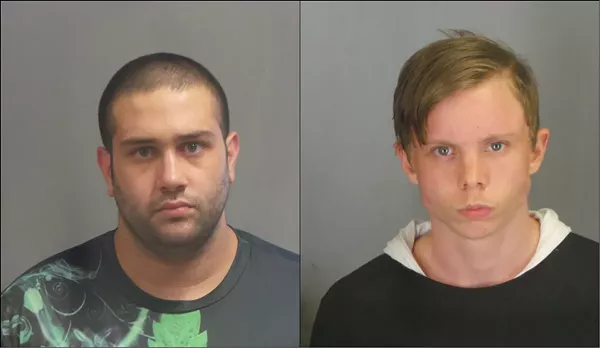 Jefferson County Sheriff's Office
Casey Duncan, right, and Jesse Killian.
It's a story old as time. Guy meets girl. Girl breaks up with guy. Guy enlists buddy to kill her dad.
Thankfully, though, this story doesn't end in actual murder. According to the Jefferson County Sheriff's Office, the bizarre revenge plot carried out by Casey Duncan, 18, and Jesse Killian, 19, went only as far stealing an SUV that belonged to the ex-girlfriend's dad.
In fact, police say, it was the report of vehicle theft, not murder, that first drew investigators to the pair.
Early Monday morning, sheriff's deputies responded to a home in Imperial, following up on a report of a stolen vehicle. After contacting the manufacturer, the deputies were able to track the SUV's GPS to a hospital in Ste. Genevieve. It was there that police also also arrested Killian and Duncan.
But when police questioned them, things started to get... weird. As in, murderously weird.
"[The investigators] looked beyond just the initial crime of stealing a motor vehicle and discovered that there was a much bigger plot here," said Sgt. Matt Moore, of the Jefferson County Sheriff's Office,
in an interview with KTVI (Fox-2)
.
After interviewing the suspects and pulling text messages from their phones, police discovered that the alleged scheme had started with Duncan texting Killian on June 24. Citing the police investigation, Fox-2 reports that Duncan told Killian that their target had to be killed within the next 30 days. Their target? The father of Duncan's ex-girlfriend.
When questioned, the two allegedly told deputies that they had arrived at their target's home in the early-morning hours of June 25, armed with a large knife, a replica Beretta handgun and a loaded .22-caliber rifle. After allegedly breaking into the home, the duo found their target asleep in the living room with his wife and young child.
They didn't kill him — apparently because Duncan, the mastermind of this circus, chickened out. And that turned out to be a good thing for Duncan, not just his proposed victims: Under interrogation, Killian apparently told the deputies that after killing Duncan's ex's father, he planned to kill
Duncan
, too.
As Fox-2 reports (emphasis ours),
Killian told investigators he had intended to kill the victim along with Duncan. However, Killian said their plan was thwarted because Duncan wouldn't shoot the victim and Killian took that to mean his co-conspirator had lost the will to do so.

Indeed, nobody had the nerve to pull the trigger. After abandoning the murder plot(s), the sheriff's office says the two settled for stealing booze and the intended target's SUV.
Both are now facing charges for first-degree conspiracy to commit murder, first-degree burglary, and stealing a motor vehicle. They're currently jailed on $500,000 bonds, cash only.


Follow Danny Wicentowski on Twitter at @D_Towski. E-mail the author at Danny.Wicentowski@RiverfrontTimes.com