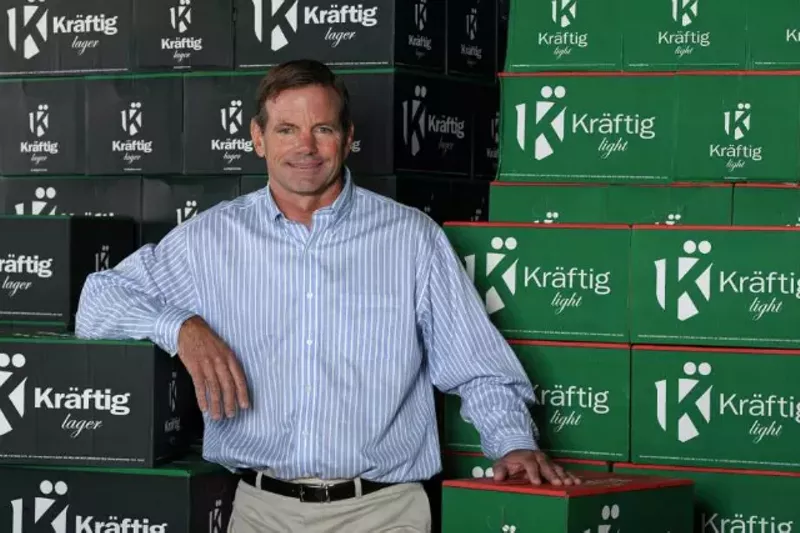 COURTESY WILLIAM K. BREWING COMPANY
Billy Busch has reached a plea agreement in the case.
Accused of assaulting a sixth-grader
, beer heir Billy Busch has agreed to a plea deal.
Busch, 58, and his attorney did not appear at Creve Coeur Municipal Court for a scheduled hearing, but the city's court clerk issued a written statement, saying counsel would instead present a memo. Terms of the deal were not immediately released, but the
Riverfront Times
has learned Busch has agreed to plead guilty to a charge of peace disturbance.
He was originally charged with simple assault after mixing it up with his son's eleven-year-old classmate in November at Chaminade College Preparatory School.
Busch is the grandson of Anheuser-Busch founder Adolphus Busch. When the mega brewer was sold to a Belgian company in 2008, Busch opened his own competing brewery, Kräftig.
A police detective who viewed a video of the school confrontation wrote a report describing the boys squabbling during a basketball tryout when Busch intervened. The well-known brewer grabbed his son's adversary by the shirt, dragged him out of the gym and pinned him against a wall, according to a police report obtained by the
Riverfront Times
in March.
The boy slapped Busch on the temple during the fracas, apparently trying to escape his grip, police said. Derek Falb, the kid's father, was eventually able to pull Busch away, according to the report. The boy's nose was bloodied during the chaotic encounter.
After the
RFT
broke the story of the charges, Busch and his attorney, Scott Rosenblum, issued statements that painted the boy as a bully, while Falb insisted the video showed Busch's son was the instigator.
This afternoon, as more than three dozen people lined up for court, a police spokesman passed on the statement from the court clerk, explaining Busch wouldn't be joining the evening cattle call.
Falb issued a written statement after learning of Busch's plea deal: "Justice is served. We are pleased Mr. Busch acknowledges he is wrong and accepts responsibility for his reprehensible actions."
He added, "We are also relieved to put this situation behind us. We are grateful to Chaminade, its basketball program and the city of Creve Coeur for the way they handled the situation."
Rosenblum did not respond to a request for comment.
We welcome tips and feedback. Email the author at doyle.murphy@riverfronttimes.com or follow on Twitter at @DoyleMurphy.