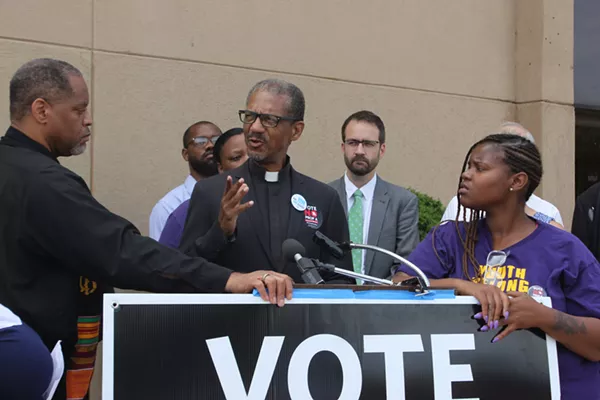 Camille Respess
Rev. Darryl Grey, chairperson of the Missouri Baptist State Convention, says he plans to unite with other faith leaders to discuss Prop. A in their respective congregations.
If Missourians approve
Missouri's Proposition A
in the state's August primary, Sierra Parker, a St. Louis-based African American janitor, says she will make $2,000 less each year. And she's not the only one.
Last week, the
Economic Policy Institute
released a study saying that Prop A, also known as Right to Work, would cause black women in Missouri to see six percent lower wages. The study also found that Prop A's passage would have a particularly big impact for low-wage workers.
The state legislature passed Right to Work almost immediately upon the election of Eric Greitens, with language prohibiting union membership as a condition for employment. But after the newly elected Republican governor signed the bill into law in February 2017, unions quickly
announced their intent to force a referendum
. Now the bill only becomes law if a majority of state voters give it their approval.
And local labor leaders and clergy are fighting hard to make sure that doesn't happen. This afternoon, seventeen people gathered in front of Williams Temple Church of God in Christ (
1500 Union Boulevard
) to discuss the effects the new law could have on Missouri. In light of the Economic Policy Institute's study, the 30-minute rally put special focus on African American women.
Camille Respess
Rev. Gray began the rally in front of Williams Temple with a prayer.
Missouri workers, faith leaders and members of the St. Louis Workers Rights Board were all in attendance at the rally on Tuesday. So was Brad Bakker, a
Democrat running for state representative
, hoping to represent Missouri's 84th district.
"[Prop. A] is an attack on working people," Bakker says. "We have to fight for our families and we have to vote no on Prop. A."
Ruth Ehresman, co-chair of the St. Louis Workers Rights Board, says that saying yes to Prop. A is saying yes to making lives more difficult for people who already face adversity.
"We believe this is the wrong direction for Missouri," she says. "Our workers deserve just wages."
Camille Respess
Sierra Parker (at the podium), talked about how Prop. A would make her life as a janitor more difficult during her three-minute long speech.
Parker, who has been homeless in the past, says Prop A will make it harder for her to make ends meet. She fears its provisions may lead her to homelessness once again.
"[Prop A] is attacking black women," she says. "Some of the politicians just don't care about the homeless and poor people."
Kevin Pallasch of
We Are Missouri
, which is leading the fight against Prop A, says the organization will continue canvassing and phone banking ahead of the August 7 vote.