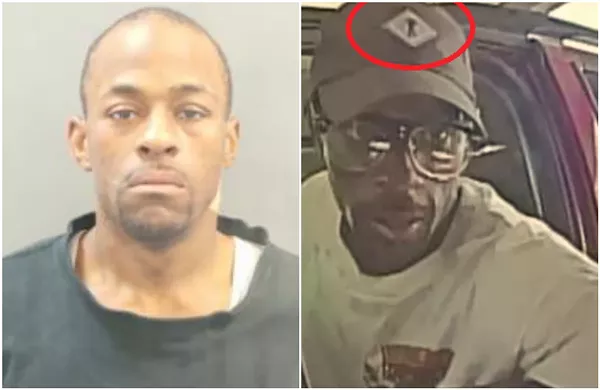 ST. LOUIS POLICE
Brandon Mardell Woods shown in a mug shot, left, and a suspect photo released by police before his capture.
Less than two months after the criminal justice system gave him a second chance, Brandon Mardell Woods started robbing and sometimes kidnapping women at gunpoint in the Central West End, authorities say.
The 34-year-old ex-con is considered a persistent offender by the state, his most recent case a guilty plea for resisting arrest during a January car stop. Woods was driving a stolen car at the time and took off when police tried to pull him over. He eventually crashed into a wall, according to court records.
Woods, who has previous convictions for burglary and receiving stolen property, was sentenced to four years in prison in April for the incident. The sentence, however, was suspended — a deal that would let him stay out of prison if he kept out of trouble.
Instead, authorities allege,
he carried out a terrifying crime spree
.
On Wednesday, city police distributed still shots from surveillance videos of a suspected gunman, linking him to five separate stickups between June 12 and 19.
City police later announced that officers had arrested the suspect within hours of a second set of photos going out to media. Police didn't name Woods at the time, saying they would wait until warrants and charges were issued. It now appears the U.S. Attorney's Office will be handling at least a portion of the case.
Federal prosecutors today identified Woods as the robber in a June 17 holdup and kidnapping, one of the incidents previously described by city police. He is accused of ambushing a 25-year-old woman as she started to get into her car in the 4400 block of Maryland Avenue.
Woods shoved a gun in her stomach and told her to give him money, according to the complaint. When she told him she didn't have any, he forced her to drive him to an ATM off North Kingshighway, authorities say. The ATM was broken, so he allegedly made her go to another ATM at a BP Gas Station in the 5000 block Natural Bridge where he used her bank card to withdraw $500 before he ran off.
Surveillance photos show him using the card, federal prosecutors say.
Woods was eventually taken into custody nearby in the 5100 block of Natural Bridge. Prosecutors say he ran when city cops approached, dropping his backpack as he sprinted away. He had 30 rounds of ammunition on him when officers caught up to him, authorities say. In his backpack, they found a gun.
So far, Woods has been charged with robbery and possession of a gun by a felon. It's possible more charges may follow. Following Woods' arrest, city police said they were conducting lineups with victims in the robberies.
We welcome tips and feedback. Email the author at doyle.murphy@riverfronttimes.com or follow on Twitter at @DoyleMurphy.