VIA SLMPD
If you've seen this man, CrimeStoppers wants to know about it.
Update:
They got him.
Police say they apprehended the suspect around 1:50 p.m. yesterday in the 5100 block of Ashland. They'll release further details when and if warrants are issued.
Original story follows ....
Police are searching for a 30-something man they believe is responsible for at least three terrifying incidents in the Central West End in the last week — as well as a few more robberies in the week before that.
Police say the man kidnapped a 25-year-old woman in broad daylight on Sunday, forcing her into her car at gunpoint at 4:40 p.m. when she was parked in the 4400 block of Maryland, near the Cathedral Basilica. He then had her drive to Natural Bridge and Union, where he forced her to make ATM withdrawals before fleeing on foot.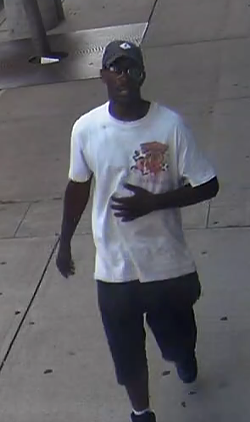 Two days later, on Tuesday, June 19, police say the same man followed a 21-year-old woman into her apartment complex lobby in the 4400 block of Lindell at 1:07 p.m. He then pulled out a silver handgun and demanded her purse. She complied but began yelling; he fled on foot.
Twenty minutes later, the man entered the back seat of a car parked in the 4500 block of McPherson just as two elderly women were getting into the front seat. He again produced a handgun and demanded her purses. When they complied, police say he forced them to drive to a gas station, where he forced one victim, a 79-year-old, to make ATM withdrawals. He then ordered them to drive him around before fleeing on foot.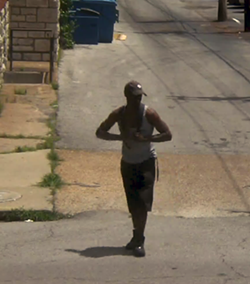 If that two-day crime spree wasn't bad enough, police believe the very same man was responsible for robbing young women at gunpoint on June 12 at Kingshighway and Laclede and on June 15 in the 600 block of Clara. In both cases, the women, who were in their twenties, were about to approach their apartments.
No one has been injured in any of the robberies or kidnappings, but police warn that the man is armed and dangerous. He's described as being in his mid-30s, 5'9" to 6'0" tall. He was captured in the photos included in this post via surveillance cameras.
Anyone with more information is urged to call CrimeStoppers at 866-371-8477.