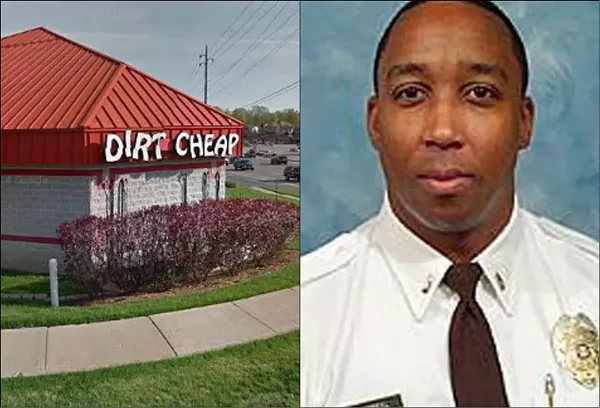 VIA GOOGLE/ST. LOUIS COUNTY POLICE
Norman Campbell's security work at Dirt Cheap got him into trouble in 2015.
A St. Louis County police commander who was the target of an internal investigation and fired following allegations that he was pulling double duty as a private security guard is no longer facing a felony charge for theft.
The office of St. Louis County Prosecuting Attorney Bob McCulloch dismissed the charge, the
St. Louis Post-Dispatch reported yesterday
.
Norman Campbell, a twenty-year department veteran, was charged in March 2015 for allegedly stealing his own wages. Campbell had served as a commander of the department's Dellwood detail.
Campbell was accused of working security for the Dirt Cheap Company — a local chain of liquor stores known for
its distinctive logo
, which features an inexplicably sexy chicken showing off its tush — while he was also on the clock.
At the time he was charged, the department said its investigation had found that Campbell had worked the security gig 47 separate times between January 10, 2014, and February 5, 2015. The department estimated the value of the theft of salary at $5,899.78.
After the charge was announced, the department released an an official statement, and the county's police chief, Jon Belmar, weighed in as well, stating, "I want to make sure this does not reflect on the hundreds of police officers who represent our department with the utmost integrity on a daily basis."
Now, more than three years later, the department has yet to release any additional statements defending its initial investigation or decision to fire him in January 2016. We've reached out to county police and the St. Louis County prosecutor's office, and we'll update this story if/when we hear back.
After Campbell was charged in 2015, his attorney, Neil Bruntrager, told the P
ost-Dispatch
that the criminal charge was actually a "misunderstanding" connected to the Campbell's use of "flex hours," which he claimed gave commanders like Campbell the option to use a certain amount of hours at their own discretion. Campbell's side hustle wasn't criminal, he insisted.
"We think this could have been resolved," Bruntrager said in 2015, "but they [the department] leapt to conclusions that are not supported by the evidence."
Last month, a St. Louis city officer, Brian Jost, was put on trial for allegedly pocketing overtime he didn't actually work. A prosecutor said Jost put in for 77 hours of overtime he didn't do, and that surveillance showed he hadn't left his house during the hours in question. After a bench trial,
a judge found him not guilty
.

Follow Danny Wicentowski on Twitter at @D_Towski. E-mail the author at Danny.Wicentowski@RiverfrontTimes.com