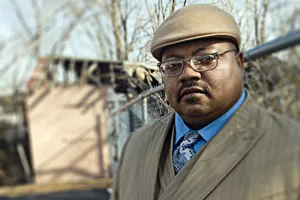 Jennifer Silverberg
Former Kinloch police captain Everett James pleaded guilty to federal fraud charges.
An former police captain in scandal-scarred Kinloch pleaded guilty this morning to federal fraud charges, admitting he collected thousands in disability benefits even as he worked multiple jobs.
Everett James, 60, claimed to the U.S. Social Security Administration in 2014 that he wasn't physically able to work as a corrections officer, but that didn't stop him from working in Kinloch as well as a part-time cop for other north county departments in Hillsdale and Wellston.
James had battled with Kinloch in past years over benefits. He had been injured on the job in 2007 during a violent confrontation with a suspect, whom James shot.
In 2009, he told the Riverfront Times
the city billed him for $3,000 of his medical costs, because it didn't have the required insurance for its police officers.
He organized the tiny department's officers in a short-lived sickout in protest of their meager benefits. He was quickly fired, but
then-Mayor Keith Conway was later charged
with a misdemeanor for the city's failure to provide insurance and workers' compensation.
Kinloch has been a hotbed for corruption — and a target for federal investigators — over the years. In 2011,
Conway pleaded guilty
in an unrelated case to charges of fraud, embezzlement and witness tampering. Another mayor-turned-convict,
Darren Small, pleaded guilty
last year to two counts of fraud after he and his wife were caught embezzling from the fire district, where Small was also the fire chief.
The previous fire chief,
Darran Kelley, had been busted for embezzling
.
James, who was rehired after his earlier strike-fueled firing, illegally collected for than $68,000 in benefits. Federal prosecutors from the U.S. Attorney's Office say he took care to keep the disability money flowing, even negotiating to keep his hours low at his part-time patrolman's gig in Hillsdale so as not to mess up his federal benefits.
Along with his police jobs, he was employed as a private security guard, prosecutors say. He previously told the
RFT
he was also a minister.
James pleaded guilty to making a false statement and theft of government funds. The theft charge is the more serious of the two, carrying a max prison sentence of ten years.
The former cop is scheduled to be sentenced on September 18.
We welcome tips and feedback. Email the author at doyle.murphy@riverfronttimes.com or follow on Twitter at @DoyleMurphy.