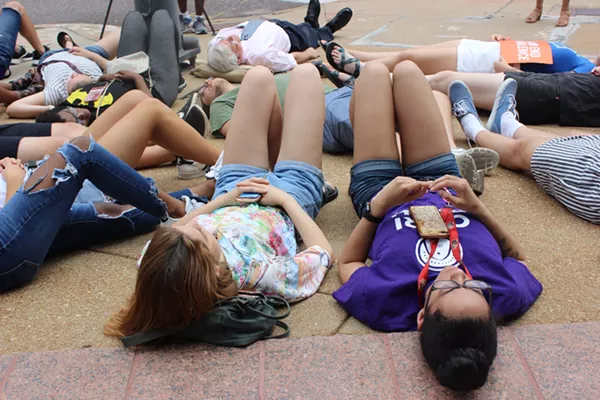 Camile Respess
Twenty-three people participated in a die-in outside of U.S. Senator Roy Blunt's office in Clayton on Tuesday.
Tuesday marks two years since the Pulse Nightclub shooting in Orlando.
To memorialize the fatal shooting, 23 people met for a die-in, organized by March for Our Lives St. Louis, at U.S. Senator Roy Blunt's (R-Missouri) office in Clayton, while also criticizing Blunt for accepting $4.5 million from the National Rifle Association (NRA). The question organizers posed: How many kids have to die for Blunt to take action against gun violence?
For twelve minutes, the participants of the die-in laid on the sidewalk outside of Blunt's office, signifying the duration of the the Pulse Nightclub shooting.
During this time, organizers of the event read the names of the 49 individuals who died and spoke about their mission to end gun violence in America.
Camille Respess
Lauren Malloy graduated from MICDS in May and is a March For Our Lives St. Louis organizer.
Lauren Malloy, an 18-year-old MICDS graduate, says that she doesn't anticipate much from Blunt after Wednesday's die-in.
"We don't necessarily expect a change in Roy Blunt's mind," she says. "It's more to bring to our legislature's attention that they have the power to enact change."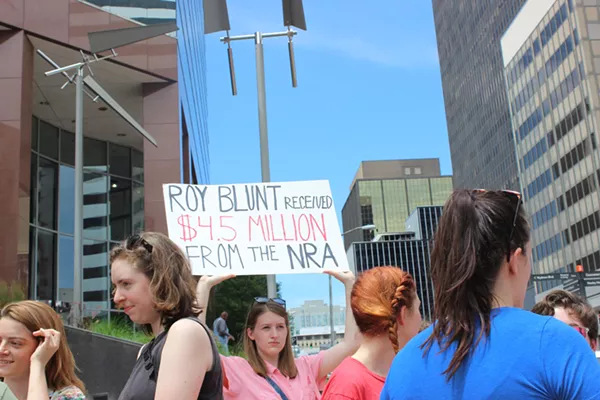 Camille Respess
Blunt receives the third highest amount of funding from the NRA of any U.S. senator.
While the 23 in attendance is a stark difference from the
estimated 10,000 at a downtown St. Louis march on March 2
5 demanding action on gun control, Malloy isn't concerned about March for Our Lives St. Louis losing momentum.
"We are all so devoted to this that it is not going to be a problem," she says.
In fact, this Sunday, June 17, March for Our Lives St. Louis is hosting a town hall with students from Marjory Stoneman Douglas High School Parkland, Florida, where seventeen people were killed on Feb. 14.
The town hall is part of March for Our Lives' national
Road to Change bus tour
to register young people to vote and educate people on where their elected officials stand with the NRA. The event will be held at Cardinal Ritter College Prep
(701 N Spring Ave.)
at 5 p.m.