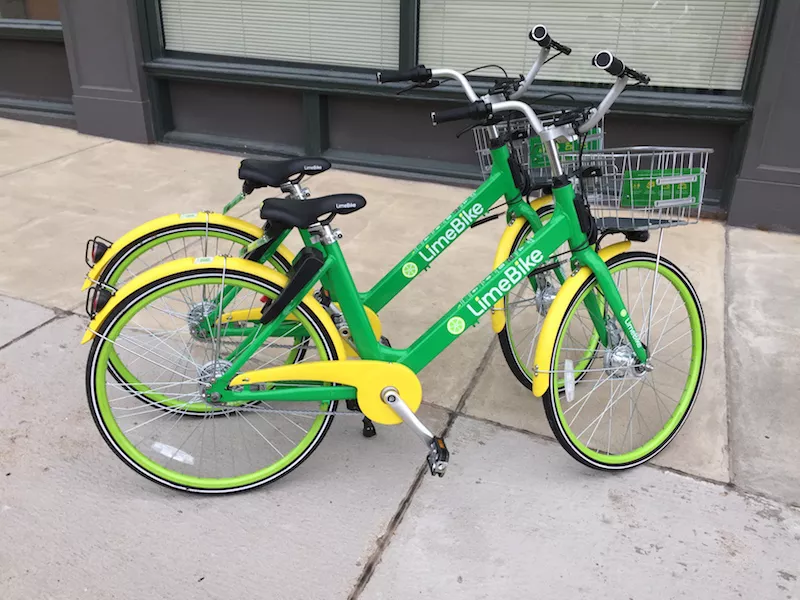 JAIME LEES
LimeBikes are everywhere .... and quite affordable for those in certain income brackets.
St. Louisans able to prove low-income status now qualify to get 100 bike rides for $5 through national bike-share company Lime's program
Lime Access
. Generally, Lime charges $1 for
every 30 minutes of use
.
Applicants to Lime Access
must be able to provide a name, phone number, government-issued photo ID and proof of low-income status through qualification for a state or federally run assistance program. With Lime Access, Lime
hopes to
provide mobility to as many people as possible, alleviate traffic congestion and encourage healthy living.
St. Louisans have grown accustomed to the presence of bright green and yellow bikes scattered on sidewalks across the city ever since Lime, which operates in more than 50 cities, made its local debut with 750 bikes
April 16
.
Lime doesn't use docking stations, eliminating the need for use of public funding or subsidies. Docked bike share systems can charge up to $5,000 per bike, limiting the amount of bikes in which a city may be willing to
invest
.
Like the other company operating in St. Louis, called Ofo, Lime operates through GPS tracking and an app-based rental system. Users scan a code to unlock the bike. Then, they ride to their destination, where they lock the wheel and check out on the
app
.
In an effort to ensure access to those without smartphones, Lime allows users to text the company to unlock a bike instead of using the app. Those without credit cards can use a PayNearMe station.
Northside Community Housing, Inc., a non-profit organization which develops affordable housing and community initiatives in north St. Louis City, has offered to assist any St. Louisans with submitting the documents necessary to join
Lime Access
. Interested cyclists can contact them at
NorthsideCommunityHousing.org
.