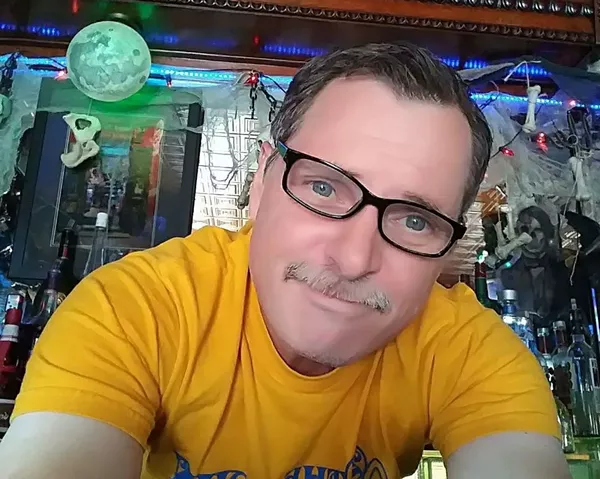 Photo via Facebook
Peyton Keene.
In an outpouring of grief, bar patrons and friends of Peyton Keene took to social media today to mourn, reminisce and mark their shock at the violent death of the well-liked bartender at Soulard's Bastille Bar and Grill.
According to a police incident report, Keene — who is named in the report as John Keene — was discovered just after midnight on Tuesday morning after officers responded to reports of a shooting. At 12:18 a.m., officers found Keene at Russell Boulevard and Menard Street, directly in front of the nightclub where he worked, a longtime gathering place for the area's LGBT community. Keene had been shot in the abdomen. He was pronounced dead at the scene.
Some social media posts have claimed that Keene's death was related to a drive-by shooting, but
RFT
has so far been unable to confirm the circumstances behind the shootings. Police did not release any additional details in response to questions sent to the department earlier today. The investigation is being led by the city's homicide division.
Keene worked as a bartender at Bastille for fifteen years. He had a knack for instantly bonding with people, says Bill Stephens, who first met Keene a few years ago.
"He was such an incredibly kind man to me during a formative time when I needed kindness," Stephens wrote in a Facebook post. "Nobody deserves this, least of all Peyton."
In an interview with
RFT
, Stephens remarked that Keene was more than just a good bartender who kept the drinks flowing and parties partying — he was a source of advice, humor and compassion. Keene remembered your name and made you feel appreciated. He treated you like a person.
"He knew you with a capital K," Stephens says. "Whenever you'd converse with him, he never made you feel left out, or singled out either."
Stephens says that this shooting is already impacting the local LGBT community. It's more than just the loss of a beloved bartender; Stephens notes that violence perpetrated around an LGBT gathering place like the Bastille "pierces the very core of a community whose liberation started at a bar."
It's a trigger of communal trauma, he adds, one that goes back Stonewall riots. "We are a small community founded out of bars," he observes.
Diane Baklor has been working on near intersection of Russell and Menard for more than three decades. Baklor, the longtime owner of Remember Me Vintage Clothing & Costumes, which is located across the street from Bastille, remembers Keene as "even-keeled."
"Some people get angry now and then, but he's just a warm-natured human being," she says. "He smiled at everyone."
Despite his generally mild temperament, Baklor notes that Keene was also courageous. This past February, a group of men got into an altercation outside a different bar nearby. Coincidentally, at the moment punches were flying, Baklor was leaving her shop and walking to her car when she tripped.
Keene, she says, rushed over from Bastille to help.
"He saw I was falling, and saw the commotion. I think Peyton assumed they were fighting with me as well," she says.
They weren't. But while Keene was helping Baklor to her feet, the combatants turned their brawling attention to the bartender.
"These guys were jumping into their car to leave, which was in front of my car where [Keene] and I were standing," she continues, "and they attacked him for no reason. They ran past him and just automatically punched him in the face."
Baklor says Keene was left bloodied and bruised, but he still had the wherewithal take a photo of the license plate on the getaway car.
Baklor stresses that she doesn't have any indication that the February incident is related to the shooting. But Keene's courage in the fracas goes to show the sort of person he was.
"His natural instinct was to help me," she says.
A person who answered the phone at Bastille earlier today declined to connect us with the owner, saying it was not a good time.
A friend of Keene's has started a
GoFundMe campaign to raise funds for his funeral.
"His family and our community needs help to provide him the funeral he deserves," wrote organizer Rusty Woody. "Please donate what you can. Every bit helps."