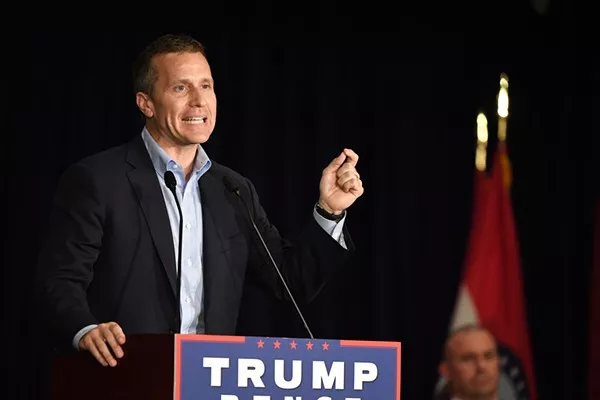 GINO SANTA MARIA/SHUTTERSTOCK
Governor Eric Greitens.
After months of taking aim at his foes in advertisements, through press conferences and on social media, Missouri Governor Eric Greitens today gave up.
The embattled governor, who is facing an impeachment probe as well as at least one felony charge, announced his resignation at a press conference this afternoon, saying it would be effective this Friday, June 1, at 5 p.m.
The normally combative Greitens briefly struggled with his composure toward the end of his remarks — but was unrepentant in giving his reasons for quitting.
"The last few months have been incredibly difficult, for me, for my family, for my team, for my friends and for many, many people that I love," he said. "This ordeal has been designed to cause an incredible amount of strain on my family. Millions of dollars of mounting legal bills, endless amounts of personal attacks designed to cause maximum damage to family and friends, legal harassment of colleagues, friends and campaign workers.
"And it's clear that for the forces that oppose us there is no end in sight. I cannot allow those forces to continue to cause pain and difficulty to the people I love."
Missouri Lt. Governor Mike Parson, also a Republican, will become governor.
It had been another rough day in a long series for the embattled governor, an outsider who beat a crowded field of candidates to win the GOP nomination and then the governorship in November 2016. Cole County Circuit Judge Jon Beetem
ruled that Greitens' political nonprofit, A New Missouri, must comply with a House subpoena demanding a host of documents
.
Greitens' critics believe those documents will show coordination between the nonprofit, the official Greitens campaign committee and the governor. They also believe they may reveal efforts to circumvent the state's campaign finance laws.
A former Greitens campaign aide, Michael Hafner, has said that
Greitens' campaign sought to conceal the true source of donations
by funneling them through various limited liability companies.
And that's in addition to the criminal case still pending in St. Louis Circuit Court, which accuses the governor of obtaining or transferring a donor list from the non-profit he founded to his political campaign in April 2015. That
charge, computer tampering, is a felony
.
Finally, Greitens could still face criminal charges related to his treatment of his former hairdresser, with whom he had an affair in 2015. The woman has alleged he hit her, coerced her into giving him oral sex and took a photo of her with the intent of securing her future silence. The prosecutor's office dismissed a felony invasion of privacy charge stemming from the allegation, but a
special prosecutor has a few more weeks in which to refile the case
, should she so choose.
In a statement, Circuit Attorney Kim Gardner indicated that Greitens' actions today were likely related to a deal with her office.
"I have been in contact with the Governor's defense team over the past several days," she said. "We have reached a fair and just resolution of the pending charges. We will provide more information tomorrow."
However, Jean Peters Baker, the Jackson County prosecutor who was appointed as a special prosecutor in the invasion of privacy case, issued a brief statement saying that no deal had been made with her office: "In the interest of pursuing justice to its fullest lengths, we will continue until our work on the case is completed."
Greitens, who was
Missouri's first Jewish governor
, had big plans for his political career — famously reserving the URL "ericgreitensforpresident" before he was even elected governor. But with news of his alleged sexual misconduct breaking on the night of his State of Union address, the governor has spent the last five months fighting for his very survival.
He's been mostly unapologetic, blaming his troubles on "liberal prosecutor" Gardner and George Soros. But as Missouri Republicans have aggressively investigated everything from his sex life to his finances, he's been increasingly alone (other than his phalanx of attorneys). Today influential conservative Erick Erickson blogger
urged his impeachment in sharp tones of moral outrage
.
Greitens said he would "let the fairness of the process be judged by history."
"This is not the end of our fight," he added. "I will always be a fighter for the people of Missouri. A great deal of work is left undone. The time has come though" — and here the governor appeared to briefly get choked up — "to tend to those who have been wounded. And to care for those who need us most.
"So for the moment let us walk off the battlefield with our head held high. we have a good and proud story to tell our children. Let's love them and each other every day. May God continue to bless you and to bless the great state of Missouri."
As usual, Greitens walked away from the dais without taking any questions. Yet even as he walked away, one loud question could be heard above all others, shouted by a newsman: "Governor, did you take the photo?"

We welcome tips and feedback. Email the author at sarah.fenske@riverfronttimes.com
Staff writer Danny Wicentowski contributed to this story