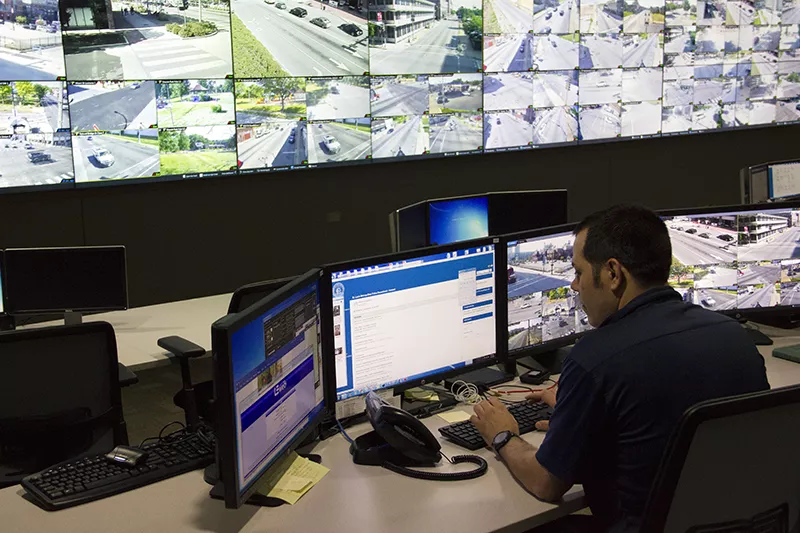 DANNY WICENTOWSKI
St. Louis police' Real Time Crime Center. All screens, all the time.
Like many large cities, St. Louis is increasingly wired for surveillance, with hundreds of distinctive white police cameras — complete with flashing red and blue lights — peering into intersections, alleyways and parks. The footage is sent to a single room inside the St. Louis Metropolitan Police Department's downtown headquarters.
The room is known as the Real Time Crime Center, and it serves as the department's digital clearinghouse for data pouring in from sources all over the city. But the center's operations also represent
contentious territory
, and they're a source of ongoing concern for privacy rights advocates and city lawmakers.
This morning, a handful of media outlets were permitted a glimpse of the not-quite Orwellian setup located on an upper floor of HQ. Our host for the day, Lieutenant Brent Feig, said that the department deploys about two-thirds of the 600 cameras scattered across the city, with the remainder composed of privately-owned systems hooked into the center.
The police cameras are stamped with the police logo and set in prominent exterior locations. That's intentional, claims Feig.
"We're not trying to be covert," he says. "Our cameras' primary focus is deterrence."
DANNY WICENTOWSKI
Created in 2015, Real Time Crime Center has facilitated hundreds of arrests and changes, police say.
Of course, the cameras also come in handy while responding to crimes as they occur. The room is arranged with long tables and computer stations with multiple screens. In fact, much of the room is dedicated to screens, including a single massive projector screen running along a back wall that displays a cross-section of everyday St. Louis life.
One screen shows a quiet neighborhood street. Another shows a playground. One screen, bordered with a red background, is frozen on a white pickup truck whose license plate was automatically flagged as stolen. (Feig later notes that the automatic license plate recognition system only flags vehicles related to felonies.)
A different screen presents a view of a busy downtown intersection near Busch Stadium. At Feig's prompting, a detective takes control of the camera in real-time, panning it this way and that, and finally zooming its focus on an individual row of seats overlooking the first base line. It's a little eerie to watch.
Still, Feig says the current stable of cameras barely covers the important areas in the city, and the department regularly moves the cameras to new spots based on the pattern of crime.
"For the square mileage of the city, 600 cameras is not that many," he says.
Along with the police cameras, individuals, neighborhood associations and businesses can hook their own cameras into the Real Time Crime Center's system — but only, Feig clarifies, if those cameras are pointed out, facing public places.
Normally, detectives in the center monitor multiple dispatch channels for crimes, and then they cross-reference possible cameras angles in the area. Detectives can then relay that information to officers in the field, providing the cops on the ground with "situational awareness."
"It's a very manual process now," adds Feig. "We're trying to automate those kind of processes, and become more effective and efficient."
But the flip side of "efficiency" contains thorny questions about how a police department should handle sensitive data, especially if its officers are given the tools to quickly track and identify individuals. According to a report by NPR, several major police departments are showing
tentative interest
in real-time facial recognition software. With the help of Amazon software,
police in Orlando are already testing such a program
. (Feig says he's not aware of any plans to install similar facial recognition software in the center.)
DANNY WICENTOWSKI
A detective demonstrates an example of the system's Shot Spotter function, which can identify and locate individual gunshots.
Still, local concerns persist. Earlier this month, privacy advocates gathered at City Hall
to urge the city to create new policies around surveillance
.
For Alderman Terry Kennedy, the crux of the problem is that those policies are currently determined by the police department's internal administration.
"The guidelines and policies and procedures that they have presently were created in an administrative process, not a legislative one," says Kennedy, who previously sponsored a board bill that would have mandated surveillance systems undergo aldermanic evaluation and approval.
Kennedy says he plans to refile a version of the bill soon, just as soon as its language is refined based on feedback from other aldermen.
Another focus of concern is the matter of data retention — that is, how long the department holds on to the video footage it's collected. According to Feig, the department currently saves the footage for up to 30 days.
Privacy advocates also worry that surveillance systems commonly sweep up unrelated subjects, creating a storehouse of personal info that's not related to specific criminal investigations — a collection that, in the wrong hands, would be ripe for abuse or exploitation.
Kennedy says he isn't opposed to the surveillance cameras in general, and he acknowledges that some neighborhood residents are eager to see more cameras installed. But he's urging the city to lay down policies that are shaped and accountable to the public, not just the internal police bureaucracy.
"We need policies for how data is stored, who maintains the data, how long it's stored, how many people have what kinds of access to it," he says. "Having good policy and being able to use surveillance equipment is not mutually exclusive, but complementary."

Follow Danny Wicentowski on Twitter at @D_Towski. E-mail the author at Danny.Wicentowski@RiverfrontTimes.com