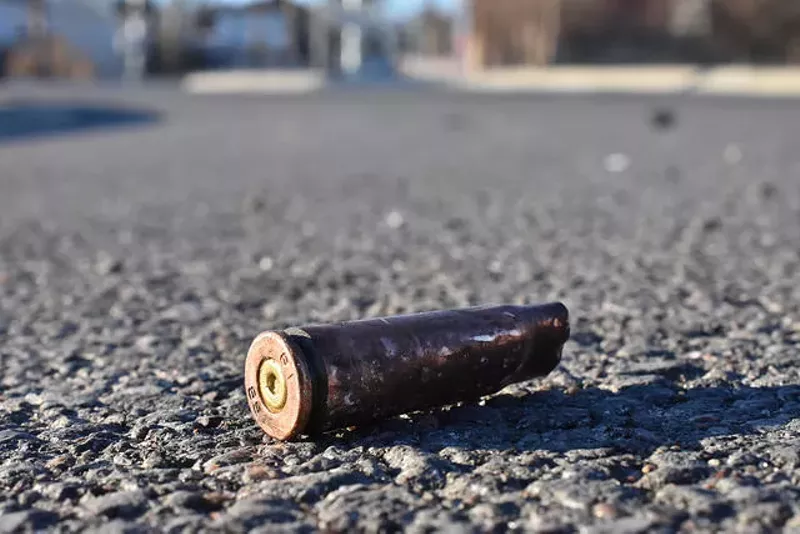 DOYLE MURPHY
St. Louis is racking up murders even faster than the past two years.
St. Louis managed to slip from Wednesday into Thursday without a murder.
Four young men — all in their twenties — who were shot about 4:30 p.m. yesterday in the Hamilton Heights neighborhood of north city are expected to live, police say. The same goes for an eighteen-year-old hit in the leg about four hours later five blocks away.
A burglar who was confronted and shot by a homeowner early this morning in south city's Benton Park West neighborhood was also hit in the leg, police say. He'll probably live.
And so, by mid-morning on Thursday, St. Louis had enjoyed an unfortunately rare day and night without a fatality. Not since a 65-year-old had his neck cut on Tuesday evening has anyone been murdered within city limits.
St. Louis has been in an ugly, deadly stretch of an ugly, deadly year. On Sunday,
Fox 2 noted
there had been ten homicides in ten days. On Monday, the
St. Louis Post-Dispatch followed up
with a report of eleven killings in eleven days, pushing the total for the start of the year to 57.
During the same time period in 2017 there were 54. That was a year of 205 homicides, the worst tally in more than twenty years. Before that, there were back-to-back years with 188 homicides each.
The first of those matching years — 2015 — notched a spike
unseen in two decades
, with nearly 30 more homicides than the year before. That kind of bloodshed was a shock. It seemed, looking back, almost unimaginable.
We welcome tips and feedback. Email the author at [email protected] or follow on Twitter at @DoyleMurphy.