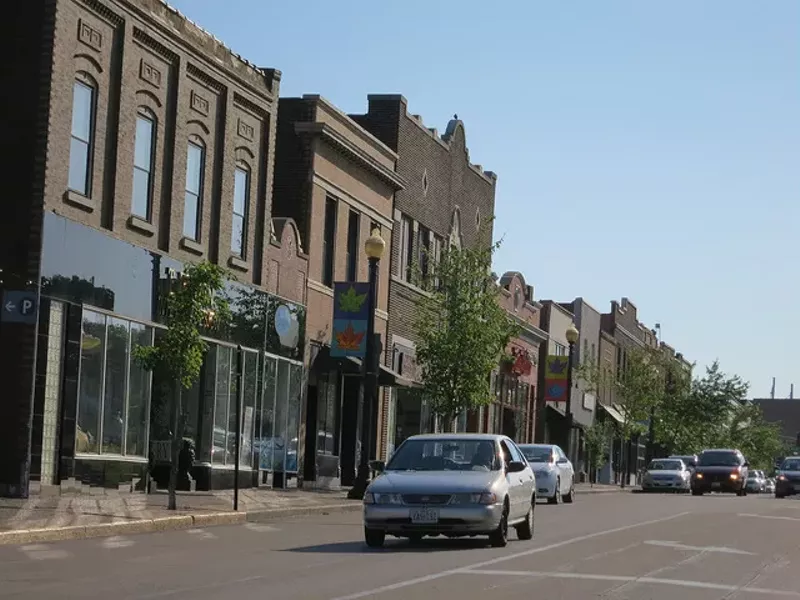 A "Hobson's choice" is a choice between one option or nothing — take it or leave it. My way or the highway. According to a class-action lawsuit filed against the city of Maplewood, that's the exact predicament confronting motorists ticketed for traffic and vehicle violations in the St. Louis suburb.
Specifically, the Hobson's choice is: pay a predetermined bond or go to jail.
Maplewood's court system is an example of what the nonprofit law firm ArchCity Defenders describe as a "pay to play" cash bail system, in which the difference between a jail cell and freedom is wholly determined by a defendant's bank account. In late 2016,
that system led ArchCity to file a class-action lawsuit against Maplewood
, and while a federal district court subsequently denied the city's attempts to dismiss the case, Maplewood kept trying, and it appealed to the U.S. Eighth Circuit Court of Appeals. Among other things, the city argued that the principle of sovereign immunity protected it from being sued over the actions of its municipal court.
Today, in a decision that could have far-reaching effects on similar cases across the St. Louis region, a federal appeals court affirmed the previous decision and ruled that Maplewood can in fact be sued for its court system.
"This ruling affirms our client's ability to bring these claims and to seek justice from municipalities themselves," says ArchCity executive director Blake Strode.
The nonprofit firm is suing several other municipalities over similar practices, including Ferguson, Florrisant, St. Ann and Arnold. And those other cities would be wise to take a close look at today's ruling. Potentially, ArchCity's various class-action lawsuits suits could affect thousands of plaintiffs.
"The impact of the Eighth Circuit stating clearly that the municipalities can be held liable for these practices means that the argument that Maplewood is making is not going to be available to any of those cities," Strode points out.
ArchCity's lawsuit against Maplewood contends that the city's court jails people — defendants accused of traffic or vehicle violations — based on their ability to pay bail. To ArchCity, this practice represents an abuse of a system that was intended to make sure defendants return for court dates.
Instead, the lawsuit says people are being punished for being poor, and that a process that cranks out automatic warrants followed by automatic bail fees followed by automatic jail stays isn't justice — it's a violation of due process and the constitutional right to equal protection.
Here's how ArchCity described Maplewood's system in a statement released after filing the class-action suit two years ago:
Maplewood's court does not inquire into a person's ability to pay their subsequent tickets and court fines, rather, it demands payment or threatens jail time. People have diverted income from disability checks, and part-time paychecks in order to avoid jailing. If a person cannot afford to pay or is not able to come to court, Maplewood charges a "warrant recall bond."

The "warrant recall bond" is the cash bond that blocks access to justice by creating a "pay-to-play" system that only the wealthy can afford. In this scenario, a Defendant must pay Maplewood $500-800 in order to recall the warrant, receive information on her charges, schedule a new court date, see a judge, or file a motion to reduce the amount of her bond. To require money in order to access the justice system, is contrary to our legal system's fundamental values.
In a 2017 appeal, Maplewood's attorneys argued that the city's municipal court is technically an arm of the state of the Missouri, and therefore it is the state that should be sued, not the city. Maplewood also claimed that because individual court and law enforcement officials maintain "sovereign immunity" sparing them from being sued over the execution of their official duties, that immunity should extend to the city itself.
"The City is wrong in both respects,"
the court wrote
, adding later, "[E]ven if we accepted the City's premise that its officials all enjoy personal immunity from suit, it hardly follows that they did not engage in any unlawful acts or that the City is thereby immune as well."
In the Maplewood case, Strode cautions that Maplewood that could still attempt to appeal to the U.S. Supreme Court. But he's hoping that case will instead progress toward trial in federal court.
"This ruling means that the work continues," he says. "We're going to continue the cases that we have already filed, and we're going to continue to seek out more places where these practices have caused people to lose houses and jobs and destroyed family relationships. That's what these cases are at their core: People have been harmed tremendously by these practices."

Follow Danny Wicentowski on Twitter at @D_Towski. E-mail the author at Danny.Wicentowski@RiverfrontTimes.com
Sign up for our weekly newsletters to get the latest on the news, things to do and places to eat delivered right to your inbox.