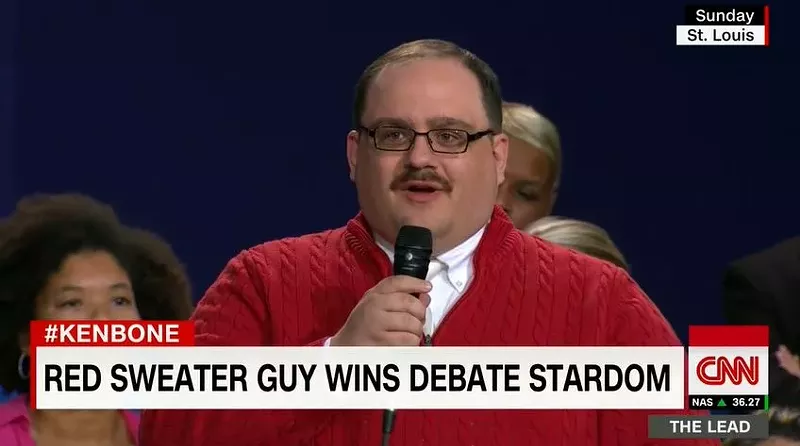 Screenshot via Youtoube
Ken Bone.
Update:
On Friday, Ken Bone tweeted that he spoke with the principal of his son's school —
and it turns out that Bone's son's suspension is over
. He'll return to class on Monday.
End of update. Our original story continues below.
Ken Bone mania has faded into the background since his days as the red-cardiganed sweetheart of St. Louis' 2016 presidential debate, but now K-Bone is back!
This time, instead of a befuddling national obsession (
or perhaps subject of coastal mockery
), the memorably memeable phenom claims that he's entangled his son in a school suspension and "pending police investigation."
On Monday,
Bone tweeted out a photo of himself and his son at a gun range
. Here's the context: The elder Bone was weighing in on a thread between a D.C. lawyer and Parkland shooting survivor Kyle Kashuv, who, unlike many other students who lived through that massacre, is avowedly pro-gun and is actively opposing calls for more gun control.
On Monday,
Kashuv claimed that he'd been questioned by police
after he posted videos of himself shooting an AR-15 at a gun range during a visit there with his father.
Bone seemed to take umbrage at Kashuv's police treatment, and so on Tuesday he posted his own photo of his son at a gun range. As caption, Bone wrote, "Here's a pic of my son learning to shoot safely under my supervision. Maybe those security guys want to talk to him."
Apparently, it turns out that those security guys
totally
want to talk to him.
This afternoon, Bone tweeted the photo again, writing
: "Remember this photo from a few days ago? Well, a school administrator saw it and now my son is suspended from school pending a police investigation."
In subsequent tweets, Ken Bone claimed the principal at his son's school had called him to notify him of the suspension.
According to Bone, the principal specifically cited the tweet of the gun range photo. He says it was the first his son learned he was in any trouble.
In addition, Bone's claims were backed-up by reporting from the
St. Louis Post-Dispatch,
which confirmed that the Belleville Police Department is investigating the incident. Bone's son attends St. Clair ROE Safe School,
a high school
for students who are "expulsion-eligible."
Speaking to the daily, Bone clarified that his son had been expelled from a previous high school for bringing a pocket knife to campus, but that his son hadn't threatened anyone with it.

Follow Danny Wicentowski on Twitter at @D_Towski. E-mail the author at Danny.Wicentowski@RiverfrontTimes.com
Sign up for our weekly newsletters to get the latest on the news, things to do and places to eat delivered right to your inbox.