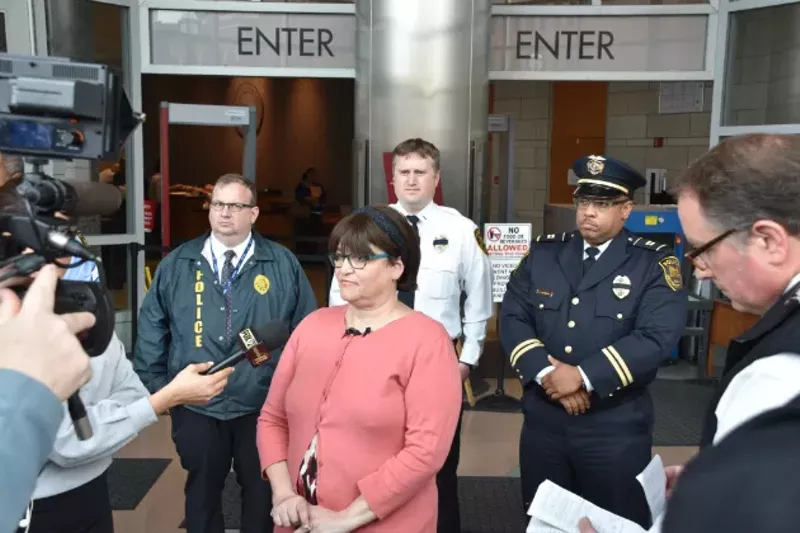 DOYLE MURPHY
Anita Feigenbaum of Chesed Shel Emeth cemetery talks to reporters following the arrest of a vandalism suspect.
A groundskeeper at Chesed Shel Emeth cemetery discovered the key piece of evidence that ultimately
cracked a high-profile vandalism case
.
Anita Feigenbaum, executive director of the organization that runs the cemetery in University City, says the employee was making his regular rounds in February 2017 when he noticed a couple of toppled headstones. At first, he thought the aging slabs had simply fallen off their bases. But he soon realized that dozens of tombstones were down — and that it had been a deliberate act.
In court records, authorities say about 120 grave markers were vandalized at the cemetery, with damages topping $30,000. Feigenbaum says the number of toppled tombstones was actually 154.
As they surveyed the damage last year, the groundskeeper spotted a piece of clothing poking out from one of the markers. Feigenbaum says they hefted off the heavy stone and retrieved a man's jacket, which they turned over to the University City Police Department.
It was that jacket that eventually led detectives to an ex-convict named Alzado Harris. University City Police Captain Fredrick Lemons says detectives got a DNA sample from the jacket and ran it through CODIS, the FBI's DNA database.
Harris, 34, of Florissant has been convicted of multiple crimes over the years, including burglary, auto theft, drug possession and forgery. Speaking at a news conference with Feigenbaum and Lemons, St. Louis County Prosecuting Attorney Robert McCulloch told reporters when Harris was locked up last year he was required to submit a DNA sample.
On Tuesday, detectives learned that Harris' DNA matched the sample from the jacket. They took him into custody at his home shortly after. Lemons says Harris confessed, telling detectives he was high on marijuana, drunk and angry about a personal problem on the night of the vandalism. When he came upon the cemetery, he took out his rage on the headstones.
Feigenbaum first learned that police were looking at Harris when they called Tuesday to see if he had any connection to Chesed Shel Emeth. He didn't, she says. It now appears he picked the cemetery at random in his intoxicated rage, authorities say.
On Wednesday, prosecutors filed a felony charge of institutional vandalism. Feigenbaum said members of the Chesed Shel Emeth were "thrilled" to see the case solved. The vandalism frightened not only those who care for the cemetery but Jewish organizations throughout the region.
Feigenbaum says the St. Louis Jewish Federation used money they raised after the incident to enhance their security with more cameras, higher fencing and better lighting.
After all the damage and fear, she has a message for Harris.
"Think long and hard," she says. "What you did was tearful and horrible for the families."
We welcome tips and feedback. Email the author at doyle.murphy@riverfronttimes.com or follow on Twitter at @DoyleMurphy.