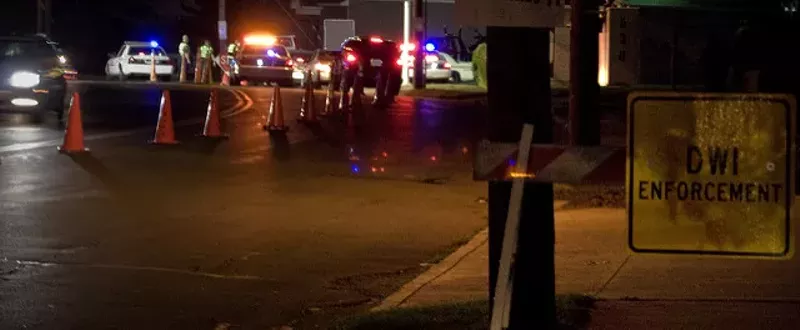 It's a sad yet familiar battle for Mothers Against Drunk Driving, as the organization is once again lobbying the Missouri House of Representatives to remove an amendment that would strip the state of funding for DUI checkpoints.
The Missouri Department of Transportation has proposed a $20 million budget for traffic and safety, which is now part of House Bill 4. But an amendment by Rep. Scott Fitzpatrick (R-Cassville) would cut the amount of funding for the checkpoints to just $1 instead of allowing for the
$1.6 million allotted in 2016.
Fitzpatrick proposed the same amendment to last year's MoDOT budget. After it faced initial resistance by the state Senate, it went to a joint conference committee where
it ultimately passed on June 30, 2017
.
Now, MADD finds itself in the same position, calling for the joint committee to adopt the Senate's position to restore checkpoint funding even as the House stands firmly against it.
"MADD thanks the Senate for refusing to go along with Representative Fitzpatrick's crusade to limit the tools law enforcement needs to protect our roads from the horrific, devastating and preventable crime of drunk driving," says MADD Executive Director Meghan Carter.
The MoDOT funding had previously been used to pay officers overtime for conducting the checkpoints. Without that funding, Carter says, departments do not have the resources to perform the stops.
"It's a lifesaving tool and very important for law enforcement," she insists.
The Centers for Disease Control reports that not only have DUI checkpoints reduced alcohol-related accidents by 20 percent, but that they reduce all vehicle related accidents by 10 to 15 percent. However,
the CDC also cites a 2011 study
that states impairment rates increased significantly in downtown areas with DUI checkpoints.
Rep. Fitzpatrick has criticized checkpoints for that reason. He'd like police departments to implement saturation patrols. "They are a more effective method," Fitzpatrick tells
RFT
. "They allow for more arrests at a lesser cost."
Before presenting the bill, Fitzpatrick did extensive research on his own and concluded that tax dollars should be spent in the way that yielded the most results.
He found that not only did DUI checkpoints lead to fewer arrests, but that each arrest cost about $1,000 to carry out. In an interview with
MissouriNet
, Fitzpatrick stated that saturation patrols have three times the arrests and at one-third the cost.
Saturation patrols are often used in states that outlaw DUI checkpoints and are most effective when paired with intense publicity, according to the CDC. H.B. 4 proposes that the funding cut from checkpoints be funneled into supplying saturation patrols so they can operate at top speed.
(As for permitting $1 for checkpoints, Fitzpatrick says it's not an attempt to crack a joke. Rather, it's to simplify the language outlining the allocation of funds.)
Still, MADD believes both types of enforcement are needed.
"Saturation patrols are out there to make arrests," says Carter, who does not deny the need or effectiveness of such patrols. "But checkpoints serve as a deterrent." With checkpoints, she says, "We know individuals are going to make better decisions."
In the upcoming weeks, the joint conference committee, which consists of House and Senate members, will vote on the bill.
Joint conference committees are often used to facilitate legislation between the two houses. Last year, it was in this stage that H.B. 4 was passed after the committee chose the House's position and that is exactly what Fitzpatrick says he will be advocating for again this year.
Still, MADD hopes that funding for DUI checkpoints will be restored.
If it isn't, MADD vows to do what it can to protect the funding. Trips to the capitol and door-to-door campaigns are not out of the question as the group plans to encourage all who will listen.
"MADD sincerely hopes that the priority will be the public safety," states Carter, "and that the Senate language allowing for sobriety checkpoints will be included in the final budget."