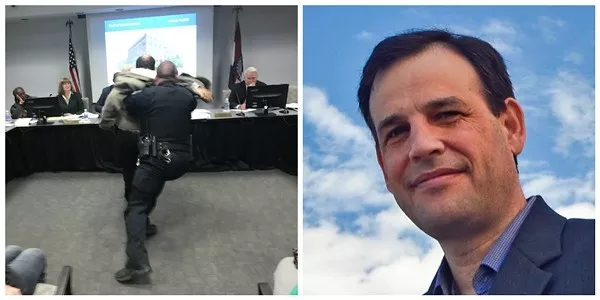 COURTESY OF SEIU/STEVE TAYLOR
Steve Taylor, right, being body slammed at a meeting last year, left.
St. Louis Community College has told Wildwood City Council it will have to hold its public meetings elsewhere instead of dropping a no-trespass order against a former adjunct faculty member turned city councilman.
Steve Taylor, the mathematics instructor who was infamously body-slammed by security at a meeting of the community college's board of trustees last October,
won a "not guilty" verdict on a charge of peace disturbance in February
. City prosecutors had dropped a second charge before trial alleging he resisted arrest.
But the college has declined to drop the order it obtained banning Taylor from campus. He can't visit his wife, a sociology professor at the Meramec campus. When a colleague had a play performed, he could have been arrested just for attending.
And now that Taylor's been elected to the Wildwood City Council, the municipality has been told it will need to take its meetings elsewhere.
Wildwood Mayor Jim Bowlin confirmed the news yesterday afternoon, saying he'd reached out to the college district after learning
in a Post-Dispatch column that Taylor was still barred from the STLCC campus
. The St. Louis County suburb frequently uses the community college's Wildwood campus for "overflow" meetings, he says, when City Hall is otherwise full. (That happened twice last month alone.) The college said it was unwilling to drop the order, leaving Wildwood to find another meeting spot.
"I'm disappointed we won't be able to use their facilities," Bowlin says. "It's convenient, and it's conducive to these meetings." He says he is not familiar with the facts of Taylor's dispute with the college, but stresses that the new council member has the right to attend any city meeting he's interested in, not just those of the committees he'll be assigned to — so if the community college isn't willing to let Taylor on campus, the choice was simple.
"I wish it wasn't the case, but it is the case," he says.
Spokeswoman Kedra Tolson said the college would have no comment, citing pending litigation with Taylor. (He's filed a lawsuit.) Questioned again about the district's interaction with Wildwood, she referred to her previous statement.
As for Taylor, he's frustrated. "I can't believe they're doing this," he says. "They are bullies."
We welcome tips and feedback. Email the author at sarah.fenske@riverfronttimes.com