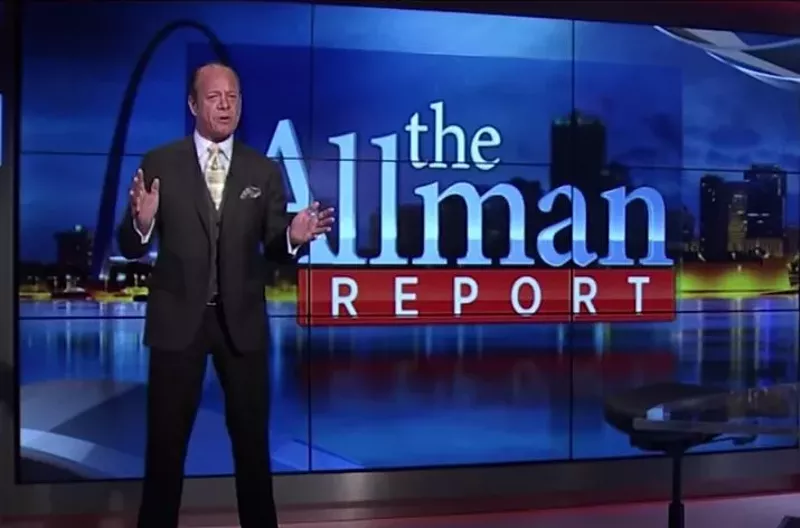 Known for his "heat phone" and pro-Trump bent, St. Louis radio and TV host Jamie Allman is now facing calls for boycott over a tweet indicating his desire to introduce a heated fireplace implement to the ass of a Parkland shooting survivor.
The student, seventeen-year-old David Hogg, has been a vocal advocate of gun control.
Like other conservative commentators, Allman — whose platforms include a morning radio show at 97.1 FM and
The Allman Report
on the ABC affiliate KDNL — has been critical of Hogg's role in urging a boycott of Fox News pundit Laura Ingraham, who last week took to Twitter to
mock
the teen for being rejected by several colleges. Ingraham was subsequently
accused of bullying
Hogg for cheap attention, and since then a dozen advertisers have removed themselves from Ingraham's show.
But even before the Ingraham controversy broke, the role of Hogg and other Parkland shooting survivors in the national gun debate was raising complicated questions, as pundits across the conservative spectrum have argued that the teens shouldn't be protected from criticism simply because of their age and status as victims of a traumatic mass shooting.
Granted, that's a much nicer way to put it than Allman did last week, when he hopped on Twitter
to boast
that he was "getting ready to ram a hot poker up David Hogg's ass."
Notably, Allman tweeted the above missive on March 26, two days before the Ingraham controversy broke, but a screenshot began circulating in recent days that's drawn new attention to the adult man casually joking about how he'd like to assault a teen shooting-survivor's butt.
And like Ingraham, Allman is starting to take some heat. Last night, Missouri Representative Stacey Newman (D-St. Louis), a longtime supporter of increased gun control,
called Allman out in a Facebook post.
In it, Newman also leveled criticism at Allman for his support of failed Parkway School Board candidate
and self-described "Confederate"
Jeanie Ames.
"We demand advertisers stop being complicit," Newman wrote. "Stop supporting an adult who spews such hate."
Allman hasn't kept his opinions about Hogg restricted to Twitter. On
The Allman Report
, which airs on Channel 30,
a segment
last week touched on the boycott of Ingraham and whether Hogg was a reasonable target for critique.
"You can't say 'Hey I'm just a kid," Allman said of Hogg. "We have to be allowed to refute what you're saying... or to respond to it, you can't be all the time grabbing your blanket when the going gets tough."
During the segment, Allman repeatedly noted that Hogg liked dropping "f-bombs" and that he should expect to receive push-back if he's going to "get his hands dirty" in political issues.
Allman added, "Just be a grownup about it." Which, in Allman's world, apparently means being threatened publicly with sodomy before you're even old enough to vote. How very grown up of him.

Follow Danny Wicentowski on Twitter at @D_Towski. E-mail the author at Danny.Wicentowski@RiverfrontTimes.com
Sign up for our weekly newsletters to get the lastest on the news, things to do and places to eat delivered right to your inbox.