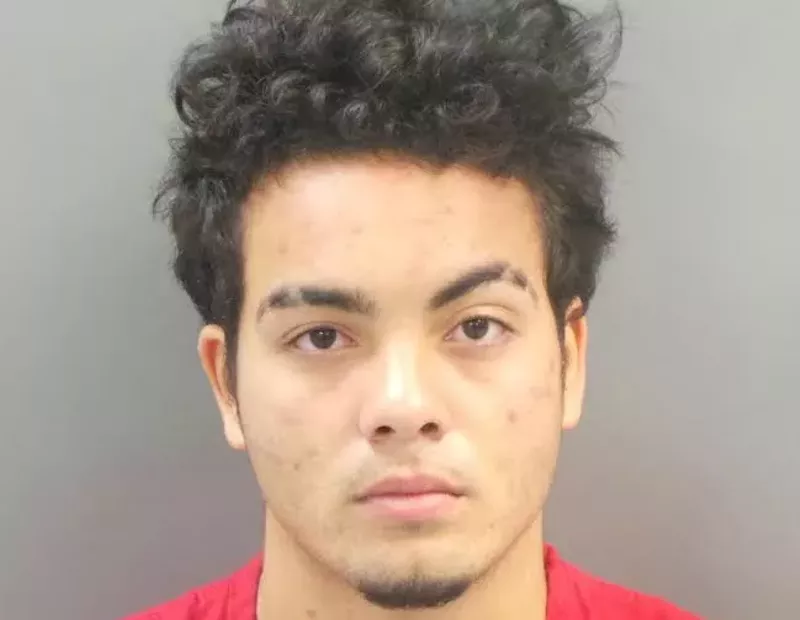 COURTESY ST. LOUIS POLICE
Rey Hernandez is charged with first-degree murder.
Rey Hernandez told jurors on Wednesday that he grabbed James Cobb, Jr.'s gun during a scuffle — and then used it to kill both Cobb and Cobb's best friend.
"I had started shooting," Hernandez testified.
The 21-year-old is facing two counts of first-degree murder and two counts armed criminal action in the double homicide. Hernandez, who dated the mother of Cobb's young son, opened fire on his rival and Haris Hajdarevic on October 28, 2015, in Bevo Mill.
The shooting happened in front of Cobb's boyhood home. His father ran outside to find the two friends slumped on top of each other inside Hajdarevic's bullet-riddled Ford Focus.
Please Also See: Two Dead in South City: After a Fatal Ambush, a Police Shooting and Fight for a Baby's Future
On the stand yesterday, Hernandez claimed that he felt he had no choice. He and Cobb had sparred on Facebook after Hernandez started sending him messages, accusing him of abandoning his responsibilities as a dad. In some of the messages, Hernandez taunted Cobb with pictures of himself with Cobb's baby boy. Cobb was in the middle of a bitter custody battle at the time with the baby's mother, and the two young men traded threats.
Hernandez says he thought it was just bravado at first, but later became worried Cobb might kill him. He told jurors his rival confronted him outside his apartment that September and, a few hours before the shooting, repeatedly drove to his job, shouting death threats.
"He said, 'I'm going to kill you. You're dead. You're dead,'" Hernandez testified.
He claims he was so scared that night, he started looking for a gun. After calling a friend who refused to sell him one, Hernandez says he walked to an apartment where someone had offered to sell him a weapon once before. He says he struck out again. On his walk home, he turned onto Taft, the very block where Cobb's parents lived.
Cobb's father, James "Jamie" Cobb Sr., had testified
Tuesday that his son had just finished dinner and gone outside when gunfire erupted. Hernandez, who lived at the other end of Taft, claims he just happened to run into Cobb on his walk home.
He told jurors Cobb was leaning into his Cadillac and he didn't recognize him until he straightened up.
"My heart started jumping," Hernandez said. "I was scared."
He claims they scuffled and a gun dropped out of Cobb's sweatshirt into the street. Hernandez said he was eventually able to scoop it up, and that he pointed it as Cobb ran across the street to a white car. Hajdarevic was in the driver's seat, but Hernandez says he never saw him — he was focused only on Cobb. He said he feared Cobb might be looking for a second weapon to replace the one he had dropped.
So Hernandez said he started shooting, continuing to fire as the Focus rolled up the street, where it eventually crashed into a parked car. The bullets shattered the back windshield and ripped through the trunk and seats. They pierced the doors and blasted through side windows. Cobb was shot through the back, elbow and, fatally, his head, a medical examiner testified. Hajdarevic was hit in an arm and his chest.
"Why did you do that?" defense attorney Marissa Ulman asked her client.
"Out of fear," Hernandez replied. "I don't know."
Assistant Attorney General Christine Krug cross-examined Hernandez, questioning his apparent good luck in coming into possession of a gun at just the right moment, right after he happened upon the man with whom he had been feuding. Adding to the coincidence, Hernandez said he didn't know the neighborhood well and had no idea he was near the home where Cobb's parents lived.
"Now, oh my gosh, you have a gun," Krug said.
Hernandez said he ran home after the shooting and vomited on the stairs. He then showered and changed clothes. At some point, he walked down the alley and hid the 9mm Taurus handgun under some brush next to a garage. Police arrived at his apartment shortly after.
Hernandez told the detectives various stories. He first claimed he knew nothing about the dual homicides, then said another man who lived in the apartment might know about it. Finally, he admitted he had done the shooting.
But none of the stories was the full truth, Hernandez testified. He said he was telling detectives what he thought they wanted to hear. He claimed it took him a few months to "come to terms" with what happened.
A skeptical Krug pointed out that through all his stories that night he never claimed the gun belonged to Cobb. She also described alleged inconsistencies in Hernandez's story about earlier run-ins with Cobb and surveillance video of the interactions, questioning his claims about being terrified.
The defense is expected to wrap up its case on Thursday.
We welcome tips and feedback. Email the author at doyle.murphy@riverfronttimes.com or follow on Twitter at @DoyleMurphy.