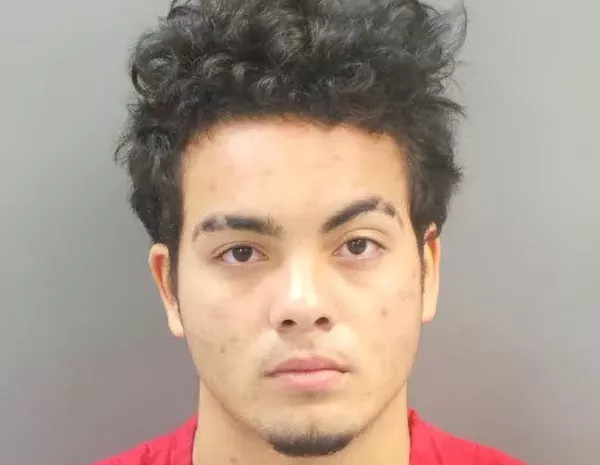 COURTESY ST. LOUIS POLICE
Rey Hernandez is charged with first-degree murder.
The suspected gunman in a south city double murder faces trial today.
Rey Hernandez, 21, is accused of gunning down James Cobb, Jr. and Haris Hajdarevic in October 2015. Authorities believe Cobb, 23, was the target. He had previously dated and had a child with Hernandez's on-again, off-again girlfriend.
Cobb was in the midst of a bitter custody battle with the baby's mother when he was shot to death in the passenger seat of Hajdarevic's car. Hajdarevic, 22, was collateral damage, Cobb's family believes.
The killings were the subject of a
Riverfront Times cover story in March 2016
.
Opening arguments are expected today, nearly two and half years after Hernandez was arrested and charged with two counts of first-degree murder and two counts of armed criminal action.
On Monday, as attorneys on both sides prepared to pick a jury, Judge Elizabeth Byrne Hogan ruled in the defense's favor to preclude jurors from hearing about Hernandez's criminal history. A previous incident in which Cobb suspected that Hernandez had shot at him and hit his car instead is also off-limits, the judge ruled.
The past wrongdoing of defendants is often withheld from jurors unless there is a direct connection to the case. Hernandez's attorney, Marissa Ulman of the Public Defender's office, argued there was no proven connection. The judge agreed.
Police say Hernandez confessed to killing Cobb and Hajdarevic after he was taken into custody and even told them where to find the gun. Ulman has argued that her client's statements and evidence of the gun should be thrown out, because police held Hernandez overnight without food or the ability to call his mother.
The case is being prosecuted by state Assistant Attorney General Christine Krug.
We welcome tips and feedback. Email the author at doyle.murphy@riverfronttimes.com or follow on Twitter at @DoyleMurphy.

Sign up for our weekly newsletters to get the latest on the news, things to do and places to eat delivered right to your inbox.