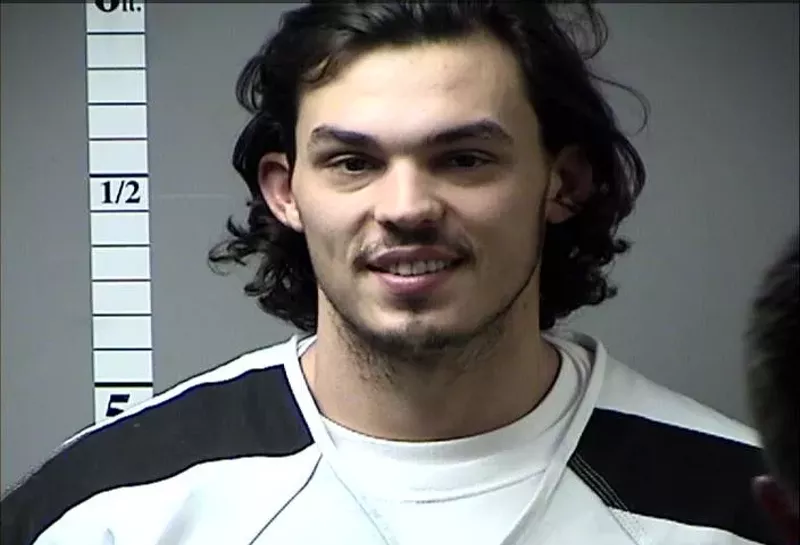 COURTESY ST. CHARLES COUNTY
Caleb Laubinger was sentenced to 70 months in prison.
Another role player in a St. Louis tanning salon owner's bizarre, violent kidnapping scheme was sentenced today to five years and ten months in federal prison.
Caleb Laubinger, 27, of Pacific and his brother are among four men who have admitted to taking a Maplewood man from his home in November 2016 and holding him hostage for three days to settle a drug dispute.
The man was beaten, shocked with a Taser and threatened with death before his parents paid a $27,000 ransom for his release.
Caleb Laubinger had pleaded guilty to conspiracy to commit kidnapping. U.S. District Judge Audrey Fleissig said she considered Laubinger's role serious, but far less involved than the other three. Specifically, she said she saw no evidence he had participated in the torture of the man.
"I don't know what in the world possessed you to get involved with this, other than your brother was involved," Fleissig told him.
Laubinger's younger brother,
Blake Laubinger, was a marijuana dealer
working for 53-year-old Todd Beckman, an entrepreneur who founded the TanCo tanning salons and MassageLuXe chain.
Aside from his official businesses,
Beckman was secretly importing crates of marijuana from California
, storing much of it at Blake's house. In late 2016, Blake and Beckman became convinced that one of Blake's partners in the pot business, Ellis Athanas, had stolen 24 pounds of their stash and $15,000 from the house.
The Laubinger brothers spent several weeks searching for Athanas before ambushing him in his Maplewood house. They tied him up and hauled him back to Blake's house, where they were joined by Beckman and the fourth defendant, 56-year-old Kerry Roades.
Fleissig said in court that it appears Caleb Laubinger stepped back while the others took turns torturing Athanas. She took that into account at sentencing, giving him less time than his brother,
whom she previously sentenced to six and a half years
.
She said she also considered the physical and mental abuse the brothers had suffered, starting when Caleb was eleven years old.
Assistant U.S. Attorney John Davis, said federal prosecutors would defer to Fleissig's judgment in determining the proper sentence.
Beckman was sentenced last month to twenty years. Roades is scheduled to be sentenced in April.
Caleb Laubinger spoke sparingly during the hearing, apologizing for his actions.
"I just want to say I'm sorry to Ellis and his family for what I did — and to my family," he said.
His attorney, Patrick Kilgore, asked the judge to recommend placing his client in a prison in Florida. His family members have said they plan to relocate there.
We welcome tips and feedback. Email the author at [email protected] or follow on Twitter at @DoyleMurphy.