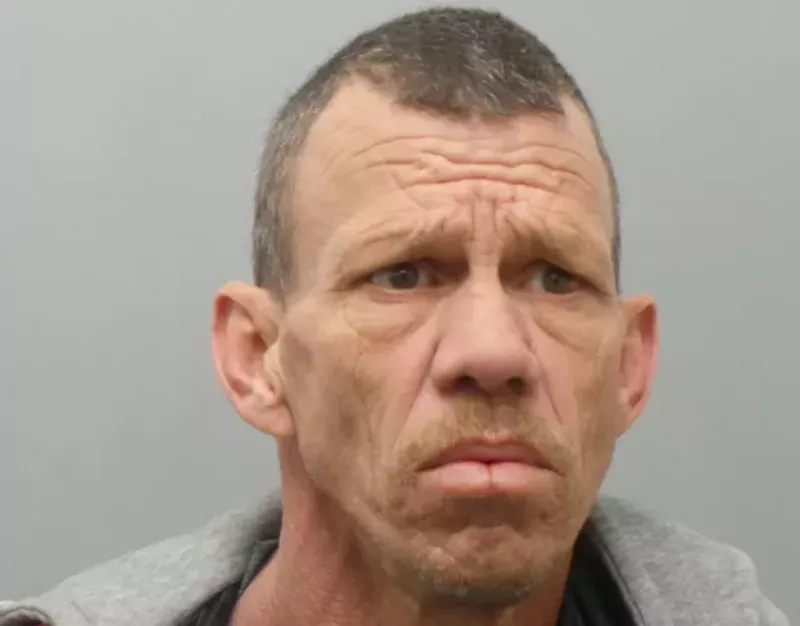 COURTESY ST. LOUIS COUNTY POLICE
Robert Cook, shown after a previous arrest, is facing kidnapping, robbery and assault charges.
Update 9 a.m. Monday: St. Louis County police have arrested Robert Cook. He was taken into custody without incident on Saturday by county investigators, police Officer Benjamin Granda says.
St. Louis County police are searching for a Sullivan man who they say beat, carjacked, slashed, robbed and kidnapped an elderly woman from a Kmart parking lot in Mehlville.
Robert Cook, 53, was charged on Friday in the September 26 attack, court records show.
The 79-year-old victim was getting in her car in the parking lot of the Kmart at Lemay Ferry Road and I-255 when she was ambushed around 10:26 a.m. St. Louis County police say Cook blocked her from closing her car door and began punching her. He then shoved her onto the passenger side floorboard and started swinging a knife, according to the probable cause statement.
She was holding onto her purse, and police say Cook cut the straps, slashing the woman's arm in the process. He then steered the 2001 Dodge Neon out of the parking lot and drove from the south county store into the city.
Police say he eventually pulled over, got out and took off with the woman's purse, leaving her bleeding in the car. She later identified him from a photo lineup.
Cook is facing charges of kidnapping, robbery, assault and three counts of armed criminal action, all felonies.
He was still on the loose on Friday. Police ask anyone with information to them at 636-529-8210 or CrimeStoppers at 1-866-371-TIPS.
We welcome tips and feedback. Email the author at [email protected] or follow on Twitter at @DoyleMurphy.
Sign up for our weekly newsletters to get the lastest on the news, things to do and places to eat delivered right to your inbox.